*Fees are a guide only. Exact cost will be dependent on requirements and are subject to change.
Nova Reid
Nova Reid is a thought leader, bestselling author of 'The Good Ally', TED speaker and producer. She is a highly skilled speaker covering a variety of topics. Nova draws on her professional background in mental wellbeing to deliver thought-provoking, engaging and highly emotive talks that inspire action.
About Nova Reid
Nova Reid is often described as a force to be reckoned with. Through her impactful advocacy and powerful public speaking, writing and storytelling, she has become renowned as an agent of change, selected as one of Black Magic Network's Top 100 Black British Women and received a Precious Award for Social Impact.
Nova is a regular contributor to BBC News, Sky News and has written for publications including the Guardian, Vogue, Grazia, and Stylist. In 2018, she was invited to attend the Royal Wedding of the Duke and Duchess of Sussex to provide expert media commentary.
She has provided bespoke consultancy and worked with a variety of organisations including Google, BT, Bloody Good Period and human rights charity Birthrights.
In 2019, Nova was headhunted by TEDx Frankfurt to deliver a talk on racial microaggressions –  Not all superheroes wear capes – which was upgraded as a TED talk in 2020. Through her TED talk and podcast series, Conversations with Nova Reid, Nova has also established herself as a highly skilled public speaker and interviewer who creates space for people to talk about a variety of topics, a highlight being an in-conversation with acclaimed actor David Harewood at the National Theatre in 2021.
Nova's first book, The Good Ally, was published by HQ Stories, HarperCollins, in 2021 in hardback, ebook and audio editions, with a paperback edition of the book published October 2022. Her popular video and audio course – Becoming Anti-Racist with Nova Reid – is available online at www.novareid.com.
Nova is a passionate advocate for equity, collective healing and helping people use self-agency to role model change.
Race and Gender
Entrepreneurship
Boundaries, resilience and radical self-care
Anti-Racism
Brave Leadership
Mental Health and Wellbeing
Black Mental Health
Psychological safety at work
Courage, Confidence & Empowerment
Courageous Conversations
Experiences of being an author and writing a best-selling book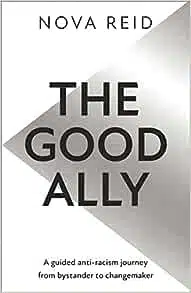 Also available on WATERSTONES, AMAZON or AFRORI BOOKS
Testimonials
"I had the pleasure of working with her twice recently and at both events she was engaging, informative and she got people really fired up and excited to take what they'd learned back into their professional and personal lives.  It's a real skill to be able to handle powerful issues like race and diversity in the compassionate and sensitive way that Nova does.  I would work with her again in a heartbeat."
Snap Photography Festival
"Nova hosted a very engaging session for Change.org on Intersectionality and the Importance of Diversity in the Workplace.  It was a solution-based presentation that led to a thought-provoking discussion. Nova was well-prepared and delightful to work with.  The team appreciated her willingness to continue the conversation if people had further questions or thoughts. We strongly recommend her to anyone looking for a speaker in this area."
CHANGE.ORG
"We love working with Nova, her diversity talk  gave a fresh new angle for our team to think about. On the feedback her talk was voted 'most enjoyable of the day'! We look forward to working with her again soon""
Principal Hotel London
"During a dedicated workshop on diversity and bias, Nova Reid offered a safe space where our participants could reflect on our pre-programmed realities, biases and prejudices. Her workshop was an interactive session, filled with laughter, aha-moments and even tears. We highly recommend her workshops, just a short interaction with her can evoke change. She has a calm and kind way of presenting that truly connected and inspired not only our participants but management to continue bringing awareness and promote inclusion. We can't speak highly enough of Nova or her workshops."
Lufthansa
"As Chair of BT's Ethnic Diversity Network, I wanted to say a massive personal thank you for leading our Good Ally discussion on Monday. It's important that we can have progressive conversations which help our colleagues to think differently to drive meaningful change. The event was a great success we had over 160 colleagues join and the early colleague feedback I have received has been excellent. The session was informative, practical and action orientated. Your delivery and candour kept our colleagues truly engaged and inspired."
BT
"On behalf of Chicago Booth and our London D&I group, thank you for the amazing event with Jane Risen last week. We are really grateful for the insights, perspective and advice you brought to make this event valuable for so many. In addition to countless superlatives, lots of positive feedback has included words such as useful, informative, relevant, practical, blunt. More than anything, people seemed to really appreciate the tangible action items and advice for all parties."
Chicago Booth School
"Thanks again for such an inspiring talk. It was moving and personal and a great reminder of the kinds of conversations that we should be having more of."
Google
"Nova Reid recently spoke at our Anti-Racism Leadership Charter event. Her knowledge and ability to bring her insights to life ensured all those attending and watching online remained engaged throughout. She was easy to work with, very personable and spent extra time interacting with delegates. Her passion for diversity, inclusion, anti-racism and allyship resonated with the audience. Colleagues in attendance advised she has prepositioned them to be better! I would highly recommend Nova to other organisations embarking on their Anti-racism journey."
Transport for London
Nova Reid Videos
Nova Reid News
Aug 08, 2023
Speakers for Black History Month 2023
Jul 07, 2022
Speakers for Black History Month 2022
You may also like
Lisa Ventura
Founder of Cyber security unity and 'Cyber Security Personality of the Year'
Kanya King CBE
Innovator in the British music industry, played an instrumental role in elevating black music and culture
Monty Halls
Former Royal Marine, explorer and travel writer
Steven Bartlett
Host of 'The Diary of a CEO' podcast and Dragon's Den's youngest Dragon
Karen Darke
Paralympic Cyclist and Mindset Coach
Sonya Barlow
BBC Presenter, Entrepreneur, Tech Expert, DEI and Neurodiversity
Sir Bob Geldof
Campaigner, businessman and musician
Dhruti Shah
Journalist and award-winning Creative Storyteller
The Reverend Richard Coles
Broadcaster, author and former Vicar and pop star
Raj Adgopul
Indian Immigrant, Slum survivor and qualified nurse