Alastair Campbell's thoughts are with Boris Johnson
This week has been historical for many reasons. Our Prime Minister, Boris Johnson has been taken into intensive due to his escalating issues connected to the COVID-19 virus. The new Nightingale hospital has opened in EXCEL with 4000 extra beds and Keir Starmer elected as Labour Leader. Like many other countries around the world, the United Kingdom is still under severe threat of the Coronavirus and deaths are continuing to rise.
Social media is, as usual, full of news and comments about Boris Johnson in particular. Browsing the people The Speakers Agency follows I have read some interesting tweets including those from Alastair Campbell. The former Labour Spin Doctor and campaign director to Tony Blair is never one to hold back on his opinions but these comments are very apt and measured.
1/5 Thoughts for the govt/others – though @BorisJohnson illness is clearly alarming for millions and deeply upsetting for his family and friends there are two important things it has already achieved – 1. Nobody but nobody can now not fully see how serious and dangerous the disease is.
2/5 2. Public and media will be understanding of the hugely difficult task government faces. A third important thing is that now it is clear he is very ill, the rest of the government, ministers and civil servants, must embrace the added responsibility this gives them.
3/5 I strongly advise they do not spend all their time talking about, and worrying about, what is happening at St Thomas's. There is nothing they can do about that. They must focus on the things they can do, including big decisions ahead and how they will be made.
4/5 There's a real risk that this distracts them from task in hand. They must be aware of/guard against it. The PM is the most high profile of many sick people. The government must focus on all. There must be no jockeying or grandstanding. Briefing against civil servants must stop.
Finally, once the initial shock subsides, opposition/media must continue to ask, with genuine respect, questions of government in order to improve decision making. I say all this while sincerely hoping @BorisJohnson will get well soon. But he must not rush.
Like Alastair, we at The Speakers Agency sincerely wish Boris Johnson a speedy and healthy recovery. We also want to thank everyone who works for the NHS – and today is World Health Day.
More about Alastair Campbell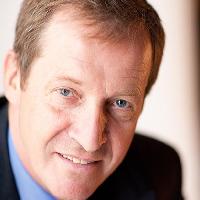 Never far from controversy, Alastair Campbell has been back in the public eye during general elections. His full diaries, revealing the Blair/Brown leadership struggle for the first time, were published at six monthly intervals throughout the year.
As a result of Alastair's involvement in the 13 years of Labour rule, it is undeniable that he can speak authoritatively on a number is key subjects. These include change management, strategy, implementation, communications and leadership.
Alastair has suffered from severe bouts of deep depression. In 2008 he turned his mental health issues including most serious form of depression into an award winning BBC documentary called, "Cracking Up".
In 1986, he had a mental breakdown which was the culmination of months of intensive stress at work, too much alcohol, and myriad complex issues. Determined to speak out Alastair believes that speaking openly about mental illness helps to de-stigmatise it.
Cracking Up (BBC)
With great courage he embarked on Cracking Up which was an incredibly frank documentary. In it he relived the traumas of his breakdown. Talking to some of those who witnessed it, the journey opened painful memories even though it was more than 20 years ago. Despite the pain and trauma of making such a film Campbell believes the experience left him stronger.
Alastair currently works as a writer, blogger, speaker, media commentator and journalist, as well as devoting considerable time to his charities. He is also a successful author of The Blair Years: Extracts from the Alastair Campbell Diaries.
Finally a dedicated fundraiser for Leukaemia Research, he is also committed to raising awareness for numerous mental health charities including the Mental Health Anti Stigma campaign Time To Change.