Fees:
*Fees are a guide only. Exact cost will be dependent on requirements and are subject to change.
Liggy Webb
Liggy Webb is an an award-wining and best-selling author, speaker and international consultant. She is passionate about sharing straightforward and practical tools to help people to be fit for the future and well prepared for change.
About Liggy Webb
Liggy Webb is also the founding director of The Learning Architect, an international consortium of behavioural skills specialists. She is recognised as a thought leader on human resilience and works with a wide range of businesses focusing on optimising potential through continual learning and behavioural agility.
Liggy believes that the diversity of her clients has provided her with a tremendous insight into the many and varied challenges that people currently face in a rapidly changing and often volatile world. She has worked with organisations including the NHS, the BBC, Walt Disney, the International Telecommunication Union, the World Trade Organization, the United Nations and various public and private sector organisations, charities and universities.
She has written over thirty-five books (including her bite-sized book series) on a variety of life skills that help people to be happier, healthier, and more productive. Liggy is passionate about distilling complexity and creating light, accessible and practical resources. The guiding principles of her book on resilience through change has also been televised for a series with the BBC world service.
Mindfit for the Future
Preparing ourselves for the future and being aware of the behaviours we need to cultivate is essential so that we thrive in the modern world. Liggy's Mindfit model focuses on five core behavioural skills including resilience, flexibility, curiosity, creativity and kindness. These all support people to be fit for the future and ready for anything.
The Wisdom of Wellbeing
Wellbeing is at the very heart of our ability to function well as human beings and when we achieve a balanced approach to life, we can live well and thrive. Liggy's "Seven Wisdoms of Wellbeing" model takes a holistic approach that encourages people to take a broader look at wellbeing and apply a variety of useful tips that can make a big difference.
The Menopause
The menopause is the natural biological process that women go through as they reach a certain age in life. It can be a challenging time for many, both physically and emotionally, and can also have a big impact both personally and professionally. Liggy speaks from first-hand experience and takes a down to earth approach of raising awareness of the menopause and helping everyone to understand the impact it can have both personally and in the workplace.
Resilience Through Change
Resilience is an essential life skill to cultivate and our ability to be resilient to stress, setbacks, adversity and change depends so much on our inner resources and strength. Liggy's 3 pillar model of human resilience looks at the foundational skills around human resilience including accountability, agility and attitude. Liggy offers plenty of straightforward and practical advice so that the audience is inspired to take personal action.
Here you can find links to books by Liggy Webb. The bite sized books can be ordered and provided in a bag, ideal for conferences. For bulk book orders for your event please speak with a member of the team.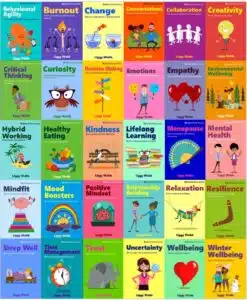 Testimonials
"I had the pleasure of hearing Liggy Webb present at the SPDS Conference and found her truly inspirational. Liggy has an energising style and a natural interaction with her audience which brings her message alive. Her passion stirs curiosity to want to learn more."
Society of Personnel and Development Scotland
"If you truly believe in investing in your people, you would do well to give Liggy a call.... highly engaging, thought-provoking and totally inspiring."
RSK ADAS
"Liggy is a fabulous presenter who has delivered enjoyable and interactive sessions for our Adult Social Care and Support workforce.   She delivers in an engaging and flexible way.  Liggy is very knowledgeable and passionate about building resilience which resonates with people in the current climate."
Adult Care & Support and Public Health
"Liggy ran an excellent session for our CIPD members, providing a very clear message about wellbeing and resilience in a calm and reassuring manner.  She was very engaging and offered lots of practical advice and takeways."
CIPD
"Liggy's delivery of complex subjects is done with such expertise and humility, perfectly pitched to engage our employees at all levels."
Phaidon International
"Another uplifting and insightful presentation from the ever pragmatic and eternally optimistic Liggy Webb. Many practical tips and techniques for a common-sense approach to lifting your."
Galliard
"We have worked with Liggy for a couple of our events and the sessions are so engaging, informative and easy to digest.  Liggy manages to take complex and challenging subjects and share practical support tips and practices – very valuable in the current climate and a real boost to our teams."
Hallmark Care Homes
You may also like
Africa Brooke
Consultant, mentor, and writer specialing in self-censorship and self-sabotage
Michelle Moore
Champion of conscious leadership
Marian Evans
Entrepreneur and Business Coach
Sonia Beldom
TV creative and body language and communication expert
Poorna Bell
Award-winning journalist, author, and influencer