Fees:
*Fees are a guide only. Exact cost will be dependent on requirements and are subject to change.
Darren Edwards
Darren Edwards is a record-breaking Disabled Adventurer and celebrated Inspirational Speaker who triumphed over adversity after a near-fatal climbing accident. His story is a living testament to the boundless capabilities of the human spirit.
About Darren Edwards
Darren, a soldier and avid mountaineer, remarkably survived a severe climbing accident that left him paralysed from the chest down. Instead of succumbing to despair, he transformed this life-altering event as a catalyst for growth.
Now a record-breaking Disabled Adventurer and Inspirational Speaker, Darren has shattered perceptions about what's possible for someone with a Spinal Cord Injury (SCI).
His feats include completing seven marathons in seven days on seven continents in a wheelchair, leading an injured veterans' team in a kayaking journey across Great Britain, and pioneering a sit-ski expedition across Antarctica to the South Pole. Darren's story, embodying resilience, adaptability, and mental fortitude, is a powerful inspiration.
Key Achievements:
First to complete seven wheelchair marathons in a week across seven continents (World Marathon Challenge, 2023)
Led a ground-breaking kayaking expedition from Lands' End to John O' Groats (Kayak 4 Heroes, 2021)
Led the first all-disabled team to ski across Europe's largest glacier, the Vatnajokull in Iceland
The first person with a Spinal Cord Injury to row across the English Channel (2022)
Leading a ground-breaking expedition to the South Pole in December 2024
As a speaker, Darren, endorsed by top companies like British Airways and Google, delivers keynotes that spark motivation and inspiration. His talks, blending deep insights with emotional resonance, offer practical tactics on adaptability, resilience, and leadership. His engaging, honest style, brimming with humor and adventure, resonates deeply, encouraging people to think and act differently.
His book, 'Strength Through Adversity' (February 2023), an Amazon best-seller, reflects his journey of overcoming challenges and fostering a resilient mindset.
To book Darren, contact The Speakers Agency on +44(0)1332 810481 or email enquiries@thespeakersagency.com.
Strength Through Adversity
Gain valuable insights from Darren's remarkable experiences, learning how to develop mental toughness and how to thrive in high-pressure situations.
The Adaptive Mindset – The Five Pillars to Overcome Adversity
In a rapidly changing world, the ability to adapt and evolve has never become more important. Darren's lived experience makes him uniquely placed to impart his lessons and reflections on how we can all learn to adapt and evolve.
World-First Leadership and Teamwork
Darren has led and been part of ground-breaking expedition teams that have achieved feats never completed before. These experiences have provided him with a unique insight into the inner workings of high-performing teams in challenging and high-pressure environments.
Leading from the Back – Authentic Leadership
Darren has led a series of record-breaking expeditions in high-pressure and high-risk environments. He has done this whilst being the most physically disabled, and not able to 'lead from the front'. What he has learnt is an important lesson in the value of creating an authentic leadership style, regardless of natural talent or ability.
Here you can find links to books by Darren Edwards. For bulk book orders for your event please speak with a member of the team.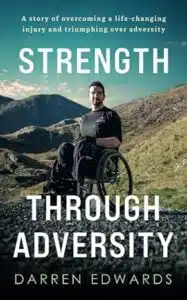 Testimonials
"In a world of so much uncertainty and fear, your words and ideas clearly meant so much to our audience and this is a huge accolade to your intuition, lived experience and sheer determination. The skill demonstrated in sharing this was valued and appreciated by us all, thank you so much. We feel privileged to have met you and listened to your story."
British Airways
"Darren Edwards takes you on an incredible journey – his own personal journey to becoming the remarkable man he is today but more importantly on your own personal journey of self-reflection. He fills you with positivity as you tangibly feel the determination and drive he has, to not only overcome adversity, but embrace it, tackle it head on and learn from it. These are not just words – he models and proves you can focus your energies on positivity, resolve and a new future."
HR Director at Pepsi
"There are many who carry the title 'Inspiration Speaker', but I have never listened to a more inspiring story of overcoming adversity which contained such practical and relevant takeaways for our senior leaders and all levels across the organisation. Thank you, Darren"
CEO at Procter & Gamble
"Darren captivated the delegates from the moment he arrived to the end of the longest round of applause.  He is a pleasure to work with, and a consummate professional, from briefing calls to follow-up. His presentation was heart-warming and honest, inspiring and your delivery pin sharp - I've never seen such a high score from delegate feedback. Please carry on never saying no, keep embracing new challenges, and I can't wait to have you back to hear more of your incredible adventures!"
CEO of Association for Event Organisers
"Wow. Darren's keynote address at our recent staff Wellbeing Festival was incredibly inspiring and has helped to rally our NHS workforce, who have gone through an incredibly challenging 18 months. I'd not hesitate in recommending Darren as a keynote speaker at any event."
CEO at NHS
You may also like
Ben McBean
Former Royal Marine and double amputee
Johnson Beharry
The first living recipient of the Victoria Cross award in over 30 years
Benedict Allen
Author, adventurer, explorer and documentary filmmaker
Miles Hilton-Barber
Blind adventurer who has climbed Mont Blanc and ran across the Gobi Desert
Ed Jackson
Former professional rugby player and recovering quadriplegic
Ice Maidens
The first all-female team to ski across Antarctica
Victoria Milligan
Survivor of a speedboat accident that killed her husband and daughter
Nicolas Hamilton
Racing driver and disability ambassador with cerebral palsy