*Fees are a guide only. Exact cost will be dependent on requirements and are subject to change.
CiCi Coleman
Cici Coleman is instantly recognisable as "Britain's most famous waitress." An integral member of C4's First Dates since its inception, CiCi is also an accomplished actress. A speaker and host, Cici is available for speaking engagements and can talk about her experiences in media and television, mental health, fitness and wellbeing more broadly.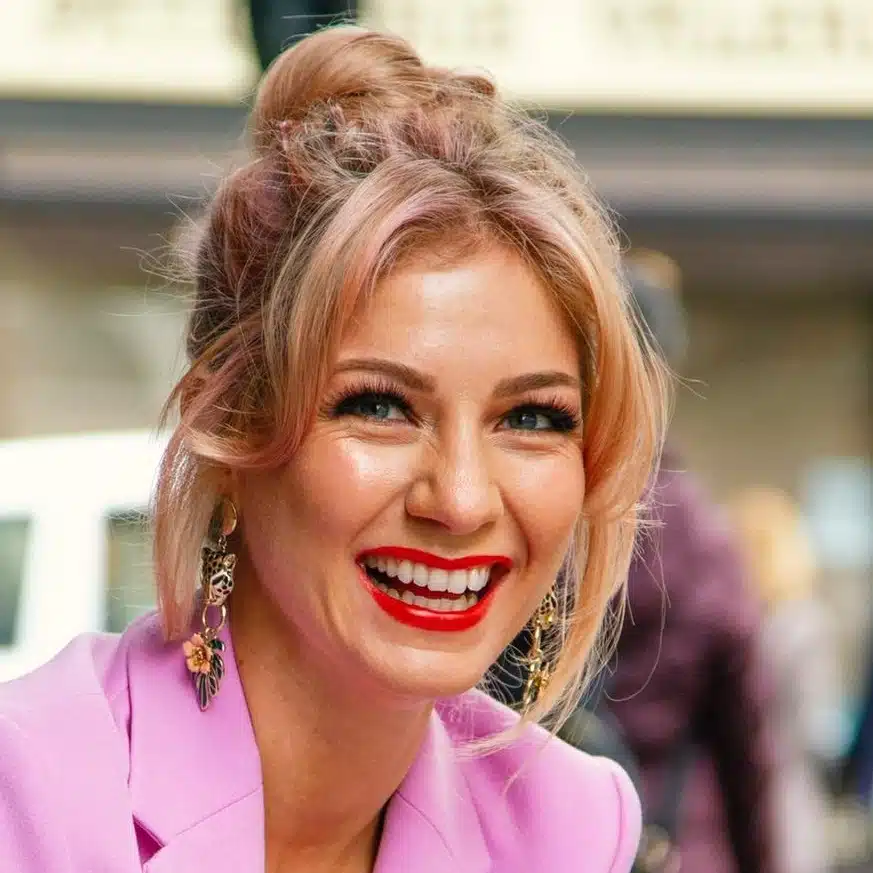 About CiCi Coleman
CiCi Coleman is a multi-disciplined artist, highly recognised for her international award-winning performances in dance, stage and film. Cici is also a fully qualified personal trainer and offers virtual pilates sessions too. She has even teamed up with former Towie member Pete Wicks to co-present a show on Fubar Radio.
CiCi Coleman was born and raised in Oxford, and she started her career in London, studying whilst working full time for HSBC Bank.  Somehow, she managed to squeeze in a combination of nine difference performance classes each week.  These she crammed into her lunch breaks.
After three years of what felt like a constant juggle, she decided to move to New York City to further her experiences and studies. She was awarded a full scholarship to the prestigious New York Film Academy.
Wasting no time and just one week after graduation, CiCi won the role of 'Janet' in the feature film "Red Butterfly". This was released in 2014.
Whilst in New York she joined The Acting Studio starring in three independent films. These were all short-listed at the internationally acclaimed Cannes Film Festival (2012, 2013 & 2016).
In addition to these award-winning performances, CiCi has also performed in three off-Broadway plays at The Players Club in Gramercy Park, NY. She was the only solo dance performer at the 2012 XL Arena.
At the tender age of 14, Cici tragically lost her mother under difficult circumstances. The impact of this sculpted her life, prompting her to want to speak out and raise awareness of mental health. She is helping others who may have suffered from similar tragedy.
This heart-breaking chapter in her history is the main driving force behind her passion to encourage discussion about mental health.  In an attempt to help others, CiCi hopes to continue to remove the stigma associated with this difficult subject.
In her spare time, she loves nothing more than hanging out with her two favourite celebrity friends  – two French Bulldogs; Herbie and Dave. If she's not with them, you'll either find her on a beach, in a yoga class, or drinking an oat milk latte in an overpriced coffee shop in South London.
You may also like
Jennie Bond
Former royal correspondent
John Humphrys
Former host of Nine O'Clock News on the BBC and quiz show Mastermind
Ross Kemp
BAFTA-winning documentary maker and author
Anne Diamond
Renowned health campaigner and dieting expert, author and journalist
Paul Hollywood
One of the main judges on the Channel 4's Great British Bake Off
India Willoughby
Britain's first transgender national television newsreader and star of Celebrity Big Brother
Alistair McGowan
Stand-up comic, actor, impressionist and writer
Susannah Streeter
Bilingual broadcaster and financial commentator