*Fees are a guide only. Exact cost will be dependent on requirements and are subject to change.
Azeem Rafiq
In 2020, following a successful 10-year professional cricketing career, Azeem Rafiq's life would change forever. In an act that required significant courage and resilience, he blew the whistle on racism and bullying at Yorkshire County Cricket Club and found himself in a globally recognised legal battle, which saw charges brought by the England and Wales Cricket board (ECB) bringing the 160 year old sporting institution into disrepute.
About Azeem Rafiq
Azeem Rafiq is a British Asian cricketer who played professionally for Yorkshire County Cricket Club (YCCC), Derbyshire County Cricket Club, and Lincolnshire County Cricket Club, making his senior debut at the age of just 17 and captained the England under-15 and under-19 sides. In 2012, he became the youngest man to captain a Yorkshire side as well as the first person of Asian origin to do so.
In 2018, Azeem's world changed forever. He lost his baby son, and soon after he also lost the career that he had worked his entire life for. While at YCCC, Azeem suffered racism and bullying and it took him many years to fully understand the impact of his suffering, particularly his treatment by the club during a very difficult time. In 2020, he spoke out about the discrimination that not only he faced but discrimination across the game and took legal action against the club hoping to create change across the sport.
His brave actions forced an overhaul of the toxic culture and behaviour both present at YCCC and in the sport more widely. As a consequence, several other cricketers have felt empowered to come forward with their experiences of discrimination. Azeem hopes that future generations of aspiring cricketers will be able to play the game they love without fear of humiliation. Recently, a Cricket Discipline Commission proved charges Azeem led and have brought the game into disrepute through their clear use of racist and discriminatory language. For Azeem, this experience was about confronting the institutionalised racism that's been going on for decades in English Cricket and starting to promote change in a community that is very naïve and hesitant to change.
Azeem is keen to use his experience to help society to understand the lived experience and impact of conscious and unconscious bias, as well as having a renewed purpose and mission to campaign for a meaningful change in global sport. In 2023 we see Rafiq enter a new and exciting chapter. His book "It's Not Banter, It's Racism: What Cricket's Dirty Secret Reveals About Our Society", is due for publication later this year, with a documentary to follow.
Overcoming adversity
Mental health in sports
The importance of speaking up
Navigating cultural barriers
The power of resilience
Finding your purpose
Diversity & mental health through a sporting lens
Leading the drive for change
Here you can find links to books by Azeem Rafiq. For bulk book orders for your event please speak with a member of the team.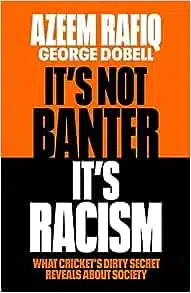 Jun 12, 2023
South Asian Heritage Month Speakers
You may also like
Piers Linney
Entrepreneur and former Dragons Den investor
Colin Jackson CBE
Multiple Gold Medallist and World Record Holder Olympic Hurdler
Souleyman Bah
Paralympic gold medalist sprinter and former star of The Apprentice
Amar Latif
Blind traveller, entrepreneur and TV presenter
Nicola Adams
First ever female Olympic boxing champion
Dudley 'Tal' Stokes
Founding member of the Jamaican Bobsleigh Team, principle character in movie Cool Runnings
Nicolas Hamilton
Racing driver and disability ambassador with cerebral palsy
Dame Kelly Holmes
Sporting icon and Double Olympic champion
Benjamin Alexander
First alpine skier to represent Jamaica in the Olympics, Reinvention expert, former DJ