What is an after-dinner speaker and why should you book one?
What is an after-dinner speaker?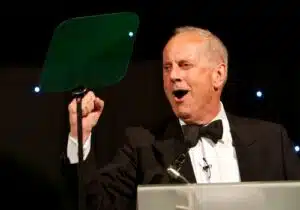 An after-dinner speaker is a person who is hired for a fee to entertain a group of people either before or after a sit-down meal. It may be a dinner which follows a company conference, a gala, a fundraising event or anything in between! Whatever the event, rather similar to the best-man speech at a wedding, an after-dinner speaker is often the highlight of a night. They provide a memory that stays with your audience long after the event itself is over.
For anyone who has ever had to do any form of public speaking, you will know what a daunting and difficult process this can be. After-dinner speaking is an art form in and of itself. Speakers must be knowledgeable enough about a particular subject to speak at length about it and must be the perfect balance of informative and entertaining in order to keep an audience engaged throughout. Our fantastic after-dinner speakers have been in this game for many years, and all of them have their speeches finely tuned. For many, public speaking is a vital part of their everyday jobs.
The Speakers Agency offer after-dinner speakers suitable for all manner of events. Our speakers come from all different industries, sectors and walks of life, ranging from sports stars to politicians, explorers to television presenters.
So why should you book an after-dinner speaker?
After-dinner speakers are there purely to engage an audience. This could be with tales of their career, with humour or by informing audiences about one or more important issues or topics. Alternatively, after-dinner speakers may be booked to engage audiences with beneficial business strategies or sporting tips. How you want your audience to be engaged will depend entirely on the nature and purpose of your event. Therefore, the after-dinner speaker you select should complement the overall theme of the event itself.
People often book an after-dinner speaker to increase the star quality of their event and build excitement about the event in the lead-up to it. Booking a well-known after-dinner speaker can elevate your event tremendously and encourage people to buy tickets or register to attend since they will get to see and hear someone whom they recognise, admire, or respect deliver a speech. This can be achieved by booking a celebrity or instantly recognisable face from television. Names such as Clare Balding, Bob Geldof and Gyles Brandreth, for example, are instantly familiar among audience members and potential event attendees.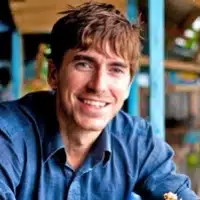 However, having a celebrity face is not always a necessity for driving ticket sales. Excitement for an event can be built by booking an after-dinner speaker who is a renowned face or expert within a specific field associated with your event. For sport-based events, for example, Mike Bushell or Dame Katherine Grainger are perfect choices. For events related to technology, Shivvy Jervis and Timothy Armoo are exceptional speakers. And for sustainability, Simon Reeve is a great choice, or alternatively, Matt Winning provides the perfect blend of environmental research with comedy.
How long do after-dinner speeches last?
An after-dinner speech usually lasts for around 30 minutes. Sometimes this means the speaker delivers an uninterrupted speech for the whole duration. In other instances, the time is comprised of a section of speaking followed by a short audience Q&A to finish. This gives your audience the opportunity to ask any burning questions they may have about the speaker or the speech itself.
How much does it cost to hire an after-dinner speaker?
The cost of an after-dinner speaker varies hugely depending on a range of factors. The biggest factor that affects a speaker's fee is their profile. As expected, a speaker's fee tends to increase the more well-known they are. However, it is important to point out that even the less recognisable faces on our website are incredible after-dinner speakers and experts within their own respective fields and can often fall within more affordable fee brackets.
In short, booking an after-dinner speaker can cost anything from £1,000 to over £150,000. The Speakers Agency can cater to any budget within this range and endeavour to match you with an after-dinner speaker that fits your cost requirements, brief and the overall theme and atmosphere of your event. We can also source speakers who are not listed on our website, so whatever your enquiry, get in touch, and we guarantee we'll be able to find you someone who fits the bill.
Contact enquiries@thespeakersagency.com or call +44(0)1332 810481 to talk through your after-dinner requirements today.