Sustainability Powered Growth
Many organisations I talk to know they should act on sustainability, but they're stuck. They're used to their ways of doing things, and right now, with high living costs, rising interest rates, and slow economic growth, they worry change might hurt them. They want to hold off, go slower, be more cautious. It might sound wise and like good business. But it's not. This mindset is bad for business and even worse for our planet.
What would you say if I told you that whether you're a big business, a small start-up, a government department, a non-profit, or even an academic institution, you can enhance your environmental footprint and still experience a massive boost in performance across all areas?
Sounds like a pipe dream?
Well, it isn't. My company has accomplished this using a method we've honed through real-world experience – we call it 'Sustainability Powered Growth'. It's a strategy I'm eager to spread widely.
In business, we're all about the hard numbers. Here are some that might pique your interest: In 2021, roughly 37 billion tonnes of carbon were released into the atmosphere. The going rate per tonne of carbon can reach up to £80. If you think of each tonne of carbon as an £80 bill waiting to be pocketed, that equates to a mind-boggling £3 trillion opportunity. That's a colossal figure, even by the standards of the figures we're bombarded with in the news. To put it in perspective, that's more money than the UK's entire economic output last year.
'Sustainability Powered Growth' is your tool – whether you're an employee, manager, leader, innovator, policymaker, or academic – to tap into that market.
These days, when I hear the term 'environmentalist', my mind jumps to an image of a protestor. Such individuals certainly play a vital role in raising awareness, but for real progress, we need environmentalists who can live comfortably, amass wealth for themselves and others, while catering to the world's emerging needs on commercial terms.
Embracing environmentalism isn't just about 'saving the planet'. It's a golden business opportunity that could inspire a new wave of global entrepreneurs, thought leaders, and organisations.
The torchbearers of this movement should be more than just custodians of the environment. They need to embody a compelling vision, demonstrating that economic gain and environmental guardianship can comfortably coexist. People have to desire this change; otherwise, it simply won't materialise.
Let's shatter the myth that sustainability equates to economic loss. By interweaving economic expansion with environmental conservation, we can secure a prosperous future without sacrificing our way of life.
I firmly believe that 'Sustainability Powered Growth' is the most potent strategy I've encountered to allow as many people as possible to contribute to bettering our world for future generations – including my young son and the child my wife and I are eagerly awaiting this summer.
A change you have to make, by law
New sustainability reporting requirements were brought into place for some companies in January 2023. In June 2024, these requirements will grow more stringent and far-reaching. It won't stop there – the emissions ceiling for organisations of all types will drop lower and lower – driving UK plc emissions steadily down to the country's ambitious net-zero targets.
This isn't 'Woke Capitalism' or the 'Green Agenda,' this is just a reality that organisations operate in. It's government policy and company law.
Many organisations are today operating from a place of fear. This is blinding them from seeing a huge opportunity. The world demands sustainability. Yes, it's prepared to punish those that do not meet the standard, but it's also prepared to reward those that meet the challenge. Work hard to meet this demand and you be be rewarded handsomely.
The main barrier to sustainable innovation is the perception of cost. Of course, it is often the case that sustainability needs investment, and in the current cost-conscious moment, environmental and social good is often pushed to the back of the company's minds.
What we found is that if we switched the paradigm completely – and looked at every environmental impact of our industry as a financial opportunity in the making, we were staggered about how often we could create far-reaching ecological good while also profiting from it.
Today, many companies are forced to tick boxes for the government. What if we turned that on its head? What if companies were brave enough to switch that role, to lead rather than follow, and put pressure on their competitors to act – and government respond?
What would this do for consumer loyalty, competitive advantage and stakeholder engagement? This can be an engine of growth.
Maximise profit, minimise risk.
Companies with legacy mindsets not adapted to this era where climate catastrophe is a pressing global concern will face new competitive pressure. Organisations will inevitably emerge that fill the niches currently served by entities that fail to tackle environmental challenges.
For business, this risk also comes with the once-in-a-generation opportunity to leverage sustainability-centred change as a catalyst for growth, resilience and profit.
Sustainability presents a business opportunity like no other.
Embracing sustainability-powered business models opens doors to untapped revenue streams, where environmental and social responsibility become sources of competitive advantage. It is a chance to position the company as a leader in the race towards a more sustainable future.
The key to unlocking Sustainability Powered Growth is in asking the right questions, and not being afraid of the answers.
For example: What exactly is the impact of our business? Who exactly is affected? By how much? If we were able to solve that problem, which groups would benefit? How can we deliver that benefit in a way that people would be prepared to pay for? Would that be better delivered through partners?
The answer to unlocking Sustainability Powered Growth may not always lie within the walls of a corporation or major organisation.  Sometimes it is hard for giants to innovate for all sorts of legitimate reasons.
Partnerships and collaborations are key. Big corporates can leverage their resources, experience, and influence to support smaller, agile organisations that specialise in solving issues in a new way. By fostering these partnerships, companies can tap into fresh perspectives and innovative ideas that may not be easily cultivated within their own structures.
Bringing these external solutions in-house can be transformative. By partnering with, nurturing and even investing in smaller organisations that have developed sustainable solutions and practices, big corporates can benefit from their expertise and bring these ideas into their own. This not only accelerates the pace of innovation but also allows companies to tap into new markets and meet the growing demand for sustainable products and services.
What I'm arguing for is a total change in attitude and perception toward the carbon challenge. Whatever your organisation does, this is arguably the biggest opportunity your sector has ever faced. Someone in your segment is going to seize it. What can you do tomorrow to make sure that someone is you?
Amrit is a firm believer in the power of ingenuity to tackle societal challenges and drive positive change for humanity. As an entrepreneur, keynote speaker, and PhD holder in Chemical Engineering (Fuel Cell Technology), Amrit is passionate about creating a net-positive impact on the environment through innovative solutions and sustainable business practices that are applicable across every industry sector, organisation type and scale.
Amrit co-founded Aceleron, a technology company that designs and licenses lithium-ion battery packs with a circular economy focus. His commitment to sustainability is evident in his approach to business, which he calls "Sustainability Powered Growth."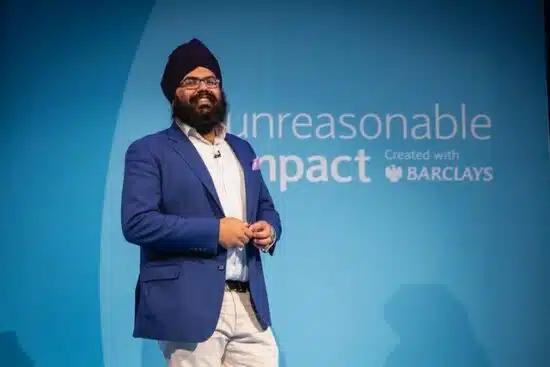 For more information on booking Amrit as a keynote speaker for your next event, contact enquiries@thespeakersagency.com or call +44(0)1332 810481 today.