Psychologist Kerry Daynes speakers out
Psychologist Kerry Daynes shares her thoughts on Mental Health Awareness Week 2020…..
Psychologist Kerry Daynes says, "Today marks the beginning of Mental Health Awareness Week, an annual event that I confess I harbour mixed feelings about.
Why the conflict? Well, whereas a large part of me celebrates the fact that it is important to recognise something that affects every human being, and is the source of significant distress for at least a quarter of us, I just can't help but feel irked at the potentially counter-productive consequences of all this 'awareness.'
This year, with the Covid-19 virus impacting all of our lives, the campaign theme ('kindness') seems to have been somewhat eclipsed by the message that we should all be on the look-out for a 'pandemic of mental health disorders.'
Yesterday, the BBC ran an article headlined "Psychiatrists fear 'tsunami' of mental illness after lockdown".  One such psychiatrist informed us that "many have developed mental disorders as a direct result of the coronavirus disruption."  Meanwhile, The Guardian wrote that mental health nurses are seeing people with "a set of symptoms they had christened "corona-psychosis". Such patients have typically lost their job and are having trouble sleeping, becoming anxious from watching the news on TV and no longer getting social support through their normal networks."
Perhaps the Royal College of Psychiatrists and media could do us all a collective kindness by NOT framing our shared trauma as 'disorders'.
Surely the grief, anxiety, fear and despair that people are currently experiencing is entirely normal in the context of the frankly awful situation we are living through. Is it helpful to imply that people who are faced with the loss of their livelihoods are somehow also psychologically abnormal when their 'symptoms' make perfect sense given the challenges they face?
Whereas awareness of mental health issues is fine, action is what is most needed.  When we label human distress as 'illness' and 'disorder' we tend to focus our responses on medically treating the individual. Surely this year, more than any other, is an opportunity to also reflect on the wider, root causes of mental health struggles – trauma, uncertainty, poverty and social inequalities  etc. – and our ability, as a group, to tackle them.
Radical kindness is as good a place to start as any. We may be relying on Zoom at the moment to physically see our workmates and family, but it is our most essentially human qualities, our ability to show compassion, care and fellow concern for others, that truly connects us. We can all stretch that connection just a little bit further.  If we move forward in this odd new reality in the spirit of community and kindness, there is real hope that, rather than be overwhelmed by an awareness of our mental health 'dysfunction', we can start to heal together.
Kerry Daynes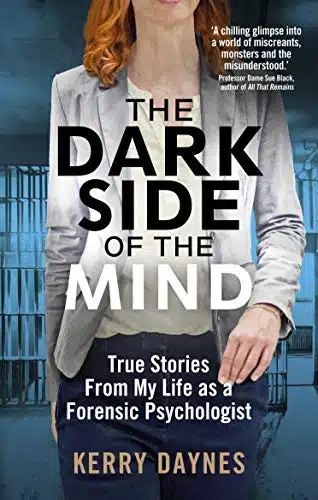 Kerry Daynes has been a highly qualified, consultant psychologist over twenty years. She is a Chartered Psychologist and Associate Fellow of the British Psychological Society.  A Health & Care Professions Council Registered she is a Practitioner Forensic Psychologist too. Finally she is a Chartered Scientist and member of the Science Council.
Instantly recognisable as one of the UK's best-known psychologists, Kerry is also the author of the bestselling memoir The Dark Side of the Mind (May 2019).  Appearing regularly on TV as a commentator, she is a regular contributor to the press.  An impressive speaker, Kerry shares her experiences of working in both forensic psychology and mental health. She tailors her speeches to the client's specific requirements.  As a result, they are pertinent, accessible, impactful and unforgettable
To book Kerry Daynes please email sylvia@thespeakersagency.com or call +44 (0) 1332 810481