Jo Foley is an internationally acknowledged authority on Wellness and Wellbeing
Furthermore Jo Foley is a highly respected travel writer and Spa journalist who has held a number of newspaper posts.  She has been Executive Editor of 'The Times', Managing Editor of the 'Daily Mirror' and Woman's Editor of 'The Sun'.
Jo has very kindly written a couple of articles for The Speakers Agency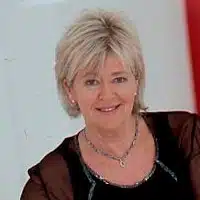 Jo Foley has a yen for a bargain
For many of us, shopping is as much part of travelling as food, galleries, empty beaches and airline delays.  But it is one of the good bits, one of the bits that makes you smile and releases all those happy endorphins.  Especially when you've got a bargain.
And nobody loves a bargain more than I do.  And I have spent decades searching out the best buys in markets, sheds, shops, designer stores (not so many of those), stalls, sales, carpet factories and probably off the back of lorries.   I have visited artisans in their workplaces where the finest embroideries are delicately produced.   Discovered carpet makers in the middle of a desert and antique emporiums in old bazaars. I've also ferreted out the latest, newest look-a-likes of tomorrow's fashions.
Few things have escaped my acquisitive genes.
Rajasthani beds, sequinned cushions, Congolese carvings and cheesecloth everythings.  Books, bags, spices, baubles and rugs…always rugs with a few pashminas thrown in for good measure.
Some things I have had shipped back, others scrunched up into my travel bags or indeed bought new suitcases to accommodate the stash. Others I have brazenly worn.
But mostly such souvenirs have been a source of great pleasure. Others became part of my gift collection for Christmas and birthdays, to give others pleasure. But the best bit is that none of them…well, almost none…have ever broken the bank.
They have been bargain buys.
And that includes a beautiful carving I found in a market in Katmandhu, a ring I bought for thirty five quid from a stall in Mumbai and most recently a bag of masks I bought at the Japanese version of Poundland.  Little did I know how useful they would soon become.
Trooping around the designer boutiques of Tokyo is more than breath-taking. Not just because of the architecture of the buildings, the design of the clothes but also because of the heart-stopping prices.  So what joy it was to stumble across a 100 Yen Shop. And it was here I found my little pack of prevention.  Along with a few wooden spoons and a couple of other cooking utensils I bought the masks for a laugh.  Since arriving home, they have remained hidden and forgotten until a couple of weeks ago when face masks became headline news.
But I have them ready and waiting whenever they might be needed.  A pack of 10 for seventy five pence! You rarely regret a holiday purchase.
Jo Foley on Goop
Let it be known Gwynnie and Goop did not invent vaginal steaming. It  has its origins in traditional therapies which were developed and practised in those territories which once made up the Malacca Sultanate.
A rich convergence of Chinese, Malay, Arab and Indian influences brought customs, mores, traditions and therapies to the region with all the history, knowledge and practice they represented. Here treatments, practices and rituals from the royal houses mingled with those of the village healers all using local spices, herbs, plants and know how.
Many of these can still be experienced in the spas and retreats of Malaysia. One of the more sumptuous and exotic is at Tanjong Jara on the east coast perched between a rainforest and the South China Sea.  A true holistic hideaway, the spa and its treatments are based around the ancient concept of Sucimurni.  Where the wellbeing of body and mind merge.
Most of the ingredients used in the treatments are sourced locally, while many of the original treatments were introduced to the spa and overseen by the local healer and midwife – Pak Yahya.  Not just a midwife, but a healer, teacher and therapist, this man has the knowledge of centuries in his DNA. He also has the skill and kindness his vocation demands and the kindest face in the world.
Anyway at his suggestion and also of my therapist I was prescribed a Rendam-Rendam sitz bath. And before you could say Goop, I found myself squatting over a bowl of warm water, infused with natural antiseptics such as Daun Sirah (piper betel) and several other herbal ingredients!
The therapy has been used for centuries to promote the health of genital organs, strengthen the uterus after childbirth and help firm one's vaginal muscles. All of this PGG – pre Goop and Gwynnie.
Apparently, it's good for piles too!
(Folklore, let alone tradition, has nothing to say about vaginal scented candles)
For more information on Jo Foley please contact us on +44 (0) 1332 810481 or email enquiries@thespeakersageny.com