Harnessing AI for a Competitive Edge in Marketing
By Keynote Speaker Katie King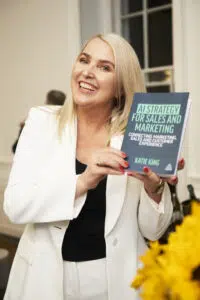 Marketing is the business of people. You must know what customers want, how they think, and how they are likely to behave. You are not simply pushing products or services; you are meeting a need, sometimes one which customers are unaware that they have. Cracking this code is one of today's marketers' top challenges, and the key to delivering loyalty-building and competition-beating CX.
This has become increasingly difficult to accomplish as our daily lives are more deeply impacted by digital. Word-of-mouth no longer means one's immediate network, and both good and bad news spread like wildfire. Social media trends sell out products overnight and just as swiftly as these trends arise, they change. Conversations move on quickly and minds change like the weather. The competitive landscape is fiercer than ever, and often customers' decision-making boils down to who can deliver the best experience.
Given the challenges of the past several years, many businesses are under pressure to gain an edge and stand out in the marketplace. Artificial intelligence (AI) may just be the weapon that marketing teams need in their arsenal to deliver the types of experiences which customers expect.  This technology will enable them to succeed in the ever-changing world of business. Here's how:
Time Savings
A big proportion of a marketer's day is taken up by tedious, routinise tasks that are essential to the job but time consuming. These include conducting trend research, audience analysis, responding to emails, updating lists, and so on. By the time those tasks are finished, there is not much of the day left to dedicate to more value-add activities involving creativity, direct interaction with customers, or strategy.
That is where AI comes in. We tend to think of this technology as all capable and all knowing, but that is not the case. AI is a specialised technology that is very good at the tasks it is designed for, and the more routinised a task is, the more suitable it is for automation. By allowing AI to take over these time-consuming fixed tasks, human marketers are freed up to complete the sorts of things that such tools cannot yet replicate.
Smarter Targeting and Segmentation
For marketers to effectively communicate with their audiences, they have to understand them. You may think you know who your customers are, but there is always more to learn. Not only that, but the needs, attitudes, and behaviours evolve quickly in the digital space. What's trending one day may very well be old news the next.
This is where audience insight and social listening platforms can be majorly beneficial to marketers. So much customer data is collected by businesses every day. Sorting and make sense of all this information is a full-time job in itself. Even if human marketing pros dedicate all their time to analysing the data that is available to them, it is likely that they will only scratch the surface. By the time insights are formed, it is likely that things will have already moved on and this intel may no longer be accurate.
AI tools can analyse unthinkable amounts of data in real time and in more depth than human workers could ever possibly accomplish, which is incredibly valuable for helping marketing teams keep abreast of developments. AI-based platforms can provide information about your audience demographics, trending topics, and what types of content will best serve their needs. Social listening tools such as Brandwatch and Signal AI monitor thousands of online conversations in real time to identify where your audiences are discussing your brand, what they're saying, and how they feel about your organisation or products. This can be incredibly useful for helping marketers tailor their messaging and inform the content they deliver to their audiences.
Content Creation
AI can of course help with this, too. We've recently seen a surge of interest in tools like ChatGPT and DALL-E that use text-based prompts to generate impressive written and visual content. These are only two examples of the many tools available that can draft engaging, human-like content. Platforms like Phrasee keep an eye on the trends, make recommendations for content, and draft it with a consistent brand voice. Other platforms such as ZeBrand can help you build a consistent brand with recommendations and autogenerated assets and content to support it.
Employing these tools can help alleviate some of the burdens on marketing pros who need to push out large volumes of content quickly yet effectively.
In the business of people, marketers need to be thinking ahead about ways that they can build and strengthen their own relationships with technology in order to keep delivering the experiences which customers desire and gain a competitive edge in an increasingly noisy marketplace.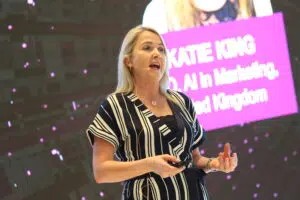 About the Author: Katie King
Katie's Keynotes span a range of topics, ranging from how to use AI in Marketing to business transformation at a board level, and how different teams across marketing, sales and HR can use AI day to day.
Katie can deliver live and virtual Keynotes at events, and she often talks at private functions, such as client dinners or lunches, where her Keynotes and copies of her book can assist teams with client engagement and sales.
For more information on booking Katie, contact The Speakers Agency on +44(0)1332 810481 or email enquiries@thespeakersagency.com to speak to one of our booking agents.