Former political aide and author Alastair Campbell is an impressive and commanding global keynote speaker.
Alastair Campbell is a communicator, writer and strategist, he speaks on a variety of subjects including what can only be described as the most topical of talks;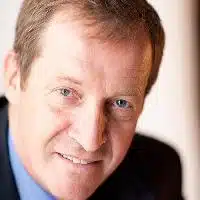 'making sense of crazy times'. In this speech Alastair tries to make sense of the current global political turmoil being caused by Brexit, Trump and Corbyn's Labour Party, asking where it all came from and where it is going.
Best known for his role as former British Prime Minister Tony Blair's spokesman, press secretary and director of communications and strategy. He is still very active in politics and campaigns in Britain and overseas.
The author of fourteen books they include eight volumes of diaries, four novels, a personal memoir on depression and the pursuit of happiness. He also wrote Winners and How They Succeed, a Number 1 best-selling analysis of what it takes to win in politics, business and sport.
Other speech topics include change management, dealing with the media and crisis management. Alistair also speaks about something very close to his heart. The campaign to improve services and understanding for mental illness. A sufferer of depression himself he wants to see more investment into mental health.
"This forthright journalist, broadcaster and author has provided my clients with fascinating, entertaining and memorable insights into the world of politics and journalism at the very highest level."
Paul Smith, Managing Director, Paul Smith Associates
"He set out to carefully tailor his insights to a largely creative audience, and his anecdotes were told with the ease of a master storyteller."
Charlie Mawer, Exec Creative Director, Red Bee Media
"Controversial, thought-provoking and highly entertaining, Alastair Campbell gave a refreshingly candid insight into past and present political leaders and events that captivated our guests."
Ernst & Young