First Dates' Merlin Griffiths shares some cocktail ideas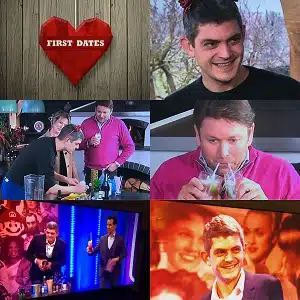 The rather brilliant Mixologist and First Dates Barman Merlin Griffiths appeared on our screens a number of times over Christmas. First Dates Christmas 2018 on Christmas Day evening brought its army of fans huge joy. Merlin's super chuckle was heard on numerous occasions as he caught up with new and old first daters in a Christmas Special. Present as always were his First Dates colleagues who as always include Fred Siriex and Cici Coleman. We particularly enjoyed 101 year old Eric, and his lovely date Norma who had been single for 46 years. Eric had such a great sense of humour and was an absolute joy to watch. We now can't wait till the next series of First Dates returns to C4.
Merlin then popped up on the lovely James Martin's Saturday Morning Show on the 29th December. The viewers watched him serve up three of the most delicious cocktails which James and Irish Chef Rachel Allan really enjoyed tasting. James was so enamoured with them he was drinking the two gin based drinks at once.
We tried the Flora Dora cocktail over the festive period and it was utterly yummy. I have included the recipe below.
Finally, Merlin appeared on The Big Fat Quiz of Everything Else on C4 on the 4th Jan. He had to create and serve some cocktails whilst the panel had to guess the names of. Jimmy Carr commented how Merlin, who was first seen pushing a drink trolley on to the set, was more handsome in the flesh than he is on First Dates. We can't argue with that. He served up a Manhattan Ice Tea amongst others and they went down a treat with a couple of the panelists.
Floradora
This drink harks back to one of Americas most successful dance hall girl acts, Flora and the Floradora Girls (Flora, Dora, Cora and Nora). Nice and easy, so quick to make.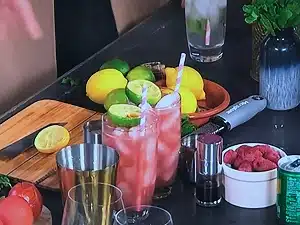 Gin (35ml) – A big gin, like Plymouth works well here
Fresh lime juice (15ml) – pressed fresh, the juice of half a lime
Fresh raspberries or raspberry puree – 2 teaspoons worth, about 6 raspberries
Ginger ale to top
A dash or two of Angostura Bitters over the top
Garnish with the spent lime shell and an eco-friendly straw (I'll bring wheat straws with me)
Make in highball glass with no ice, fill ginger ale to half way, stir then fill glass with ice, garnish and serve.
To book Merlin for speaking and personal appearances, bar hosting and cocktail creating and to book Jimmy and James for hosting events please contact holly@thespeakersagency.com