First Dates Hotel starts 9pm on C4 Thursday 30th April 2020.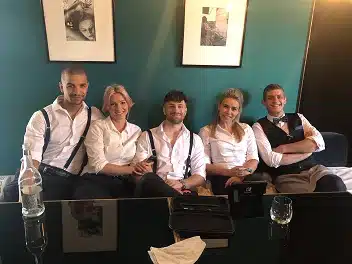 First Dates Hotel fans will be delighted to know it returns to our screen on The stunning resort of Aqua Petra in Telese, nr Naples, will be transformed once again for this series' eclectic bunch of daters.
The programme has a huge following but in case you have not seen it yet, I will set the scene. On the hunt for love, these lucky daters are flown out to Italy.
The viewers get to watch the cast including The Speakers Agency's Merlin Griffiths and Cici Coleman working along side their TV colleagues encourage laughter and love .
Merlin Griffiths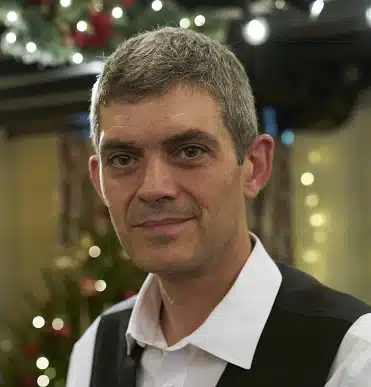 At the First Dates Hotel, TV's best-known barman Merlin helps the daters relax as he or she waits for their date to arrive. He makes them the cocktail of their choice whilst engaging them in conversation about who they are looking for, what they do for a living etc.
Merlin makes them feel comfortable and they usually have a laugh about something or other.
Merlin is a popular choice for alternative event reception entertainment. He is often booked to design a signature cocktail for the predinner drinks and then do meet and greets.
An award-winning mixologist for over 20 years Merlin works with companies to showcase their alcohol and mixer brands on a regular basis.
He appears on James Martin's Saturday Kitchen where he stuns James with his amazing concoctions every time. Other TV includes GMB and Sunday Morning Brunch.
Cici Coleman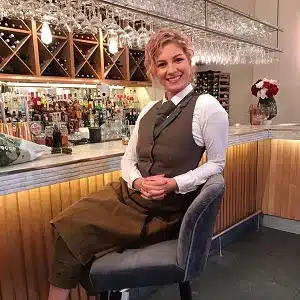 The very stunning Cici Coleman is one of the enthusiastic waiting staff who loves to meet the daters as they sit down to eat.   Led by the one and only Fred and working with her fellow waiters Laura, Austin, Francesco and Grant she observes everything that is going on.
A fitness trainer and Hot Pilates teacher, Cici is also a popular speaker about maintaining fitness and mental wellbeing. She is also much in demand by leading brands as she has over 125,000 followers on Instagram.
Cici is a regular co presenter on Fubar Radio and has been running fitness classes on FB Live during lockdown.
An very capable awards host, Cici also provides fitness classes for corporate team building days and enjoys meet and greets.
Telese Terme
45 minutes drive north east of Naples, lies the First Dates Hotel. My mother was born in Naples and I still have cousins and aunts living there so I know the area well. And I lucky enough to visit the hotel when I headed out to see Merlin and Cici on location.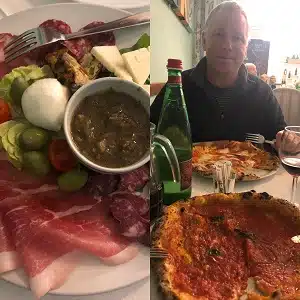 Located next to the Spa town of Telelse, it is a lovely spot to visit and my husband and I loved the town. The hotel was full of crew, caste and daters so we stayed in a charming little B&B Casa Lovara just off the main street which was full of restaurants and cafes.
The views from our window were spectacular. Mountains galore and green lush countryside that surrounds the town. And the hosts utterly charming.
We marvelled at incredibly low prices of the delicious antipasto's and pizza's at ristorante archimagirus – well worth a visit or three.
We visited the remains of ancient walls in opus reticulatum (total length of over a mile) which have two inscriptions which record the building of the towers.
The remains of baths (Thermae Sabinianae) and the amphitheatre still exist too. Most famous for its sulfuric hot springs these most likely supplied the baths in a bygone age.
Naples
For those of you who worry about driving in Naples. Firstly you do not have to drive into Naples to get to Telese. Naples is a great city but it's a mad house of standstill traffic for the most part. If ever you head out there make sure you do take a trip into the city on public transport.
Trains run regularly and you can stay out in Sorento, Pompei or anywhere along the very gorgeous Amalfi Coast. And remember that , despite the negative press, Naples is worth a visit. There is so much to see. Walking along Lungomare, visiting the Solfatara, taking a boat trip to Capri or Ischia, and eating the best pasta and pizza in the world.
Whatever you do and whichever way you chose to get around there is not getting away from one particular sight. And that is the majestic Vesuvius over looking the bay of Naples. Although in a dormant phase at present, Vesuvius is actually an extremely active volcano.
Tip
We hired a car from Capodichino Airport (Naples) and drove to Telese. As our flight arrived late and we did not fancy driving through the dark we booked a wonderful little B&B close to the airport and the owner very kindly picked us up. He dropped us back the next morning too. Picking up the car was a tad chaotic but you just have to remember when in Naples and all that….
Unfortunately, when we picked up the car, we foolishly didn't check the sat nav before we set off. This meant our supposed 45 mins journey took well over two hours and took us through tiny villages rather than along the motorway. This is because it never occurred to us to check whether the avoid motorways button was activated. Needless to say it took 45 mins on the way back to the airport.
The area is well worth a visit and I would highly recommend it.
To book Merlin or Cici please contact sylvia@thespeakersagency.com