Diversity, Equity and Inclusion Speaker
Dr Shola Mos Shogbamimu is a lawyer, the founder of the Women in Leadership publication, a Social Entrepreneur and a phenomenal speaker.  Unafraid of making herself heard, Dr Shola is fast becoming one of the most impressive and leading voices on the speaking circuit.
Furthermore, her book 'This is Why I Resist' was published in 2021 to incredible acclaim.  In Dr Shola's words, the book is about the hard conversations we must have to drive progress in race, racism and race inclusion. It includes the answers to some of the most significant question surrounding race including:
– What are the roots of racism in the UK and USA?
– What are the day to day examples of racism?
– What is a racial gatekeeper?
– What is performative allyship?
Dr Shola appears constantly on numerous TV news programmes to discuss a variety of UK and international news stories and topics, including Black Lives Matter, Racism and Equality. Best known for being brave, courageous and speaking her mind, companies are lining up to book her for her combatting racism, inclusion and diversity speeches to help drive change within their organisations.  As Dr Shola says ,"there is no freedom without rights and no rights without the freedom to exercise those rights".
This is Why I Resist by Dr Shola Mos Shogbamimu PhD MBA LLM MA LLB was published by Headline in January 2021 
David Lammy MP says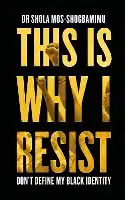 "Written with fearless articulacy, this book recalibrates the conversation on race to ignite transformational change."
Annie Lennox OBE says
"Dr Shola Mos-Shogbamimu is a true force of nature who boldly and courageously speaks truth to power. She is fearlessly dedicated in her fight for racial justice and transformative systemic change, and with her resistance, she is shaking a nation out of its slumber.'"
Dawn Butler says
"2020 is the year a new generation has its eyes open to racism and the older generation explains why the resistant movement never subsided. It is also the year privilege is highlighted, many think they can't be privileged if their life is crap. If you are born hearing you have privilege over those who are born deaf because the world is structured for the hearing. This book walks you through the stages, be prepared for lots of moments of realisation that make you go 'ah'.'"
Professor Kate Williams says
"This Is Why I Resist is a passionate call to arms for anyone that wishes to look the other way. Dr Shola tells the reality of life in Britain for those who are demonised and oppressed, explores with steadfast precision the politics of hate against Black people and discusses everything from the workplace to social media, feminism and identity politics. Shola Mos-Shogbamimu is a vitally important voice for our society. This book is a must read."
Lady Phyll Opoku-Gyimah says
"Shola's take-no-prisoners and pull-no-punches energy pulses through This Is Why I Resist – and it's brilliant. She's a firebrand, her activism forged in hard work and lived experience, and we are glad to have her speaking truth to power and putting forward an important contribution to our collective liberation."
Lord Simon Woolley says
'This Is Why I Resist is uncompromising, unsettling and deeply challenging for both black and white readers. That's why it's a must read. An honest engagement with this book will not only help us deal with some of societies deep seated racial inequalities, but it will also help with a healing process that comes from understanding and action."
Munroe Bergdorf says
"Shola is a formidable force for change. Her work is inclusive, exciting and focused. The way she unapologetically challenges her audience with both humour and compassion, is massively inspiring and a fantastic point of reference for intersectional anti-racism work, no matter who you are."
Dates to Remember
Race Equality week takes place February each year
The International Day for the Elimination of Racial Discrimination takes place on 21st March 
Black History Month takes place in October each year
RELATED NEWS
What is Corporate Comedy?
Twayna Mayne Opens Channel Islands Pride
Celebrating Victory at the National Diversity Awards 2023
Top 15 Speakers on Teamwork and Collaboration
Publication Week for 'Decolonising Restorative Justice'
Corporate Christmas Entertainment 2023
5 benefits of using a speaker bureau to hire a guest speaker
Toyah Willcox: The Celebrity Speaker Who Captivates Every Audience
Welcoming Jill Nalder to The Speakers Agency
Speakers for Black History Month 2023