Dickie Arbiter LVO talks to the Telegraph about the Prince Andrew car crash interview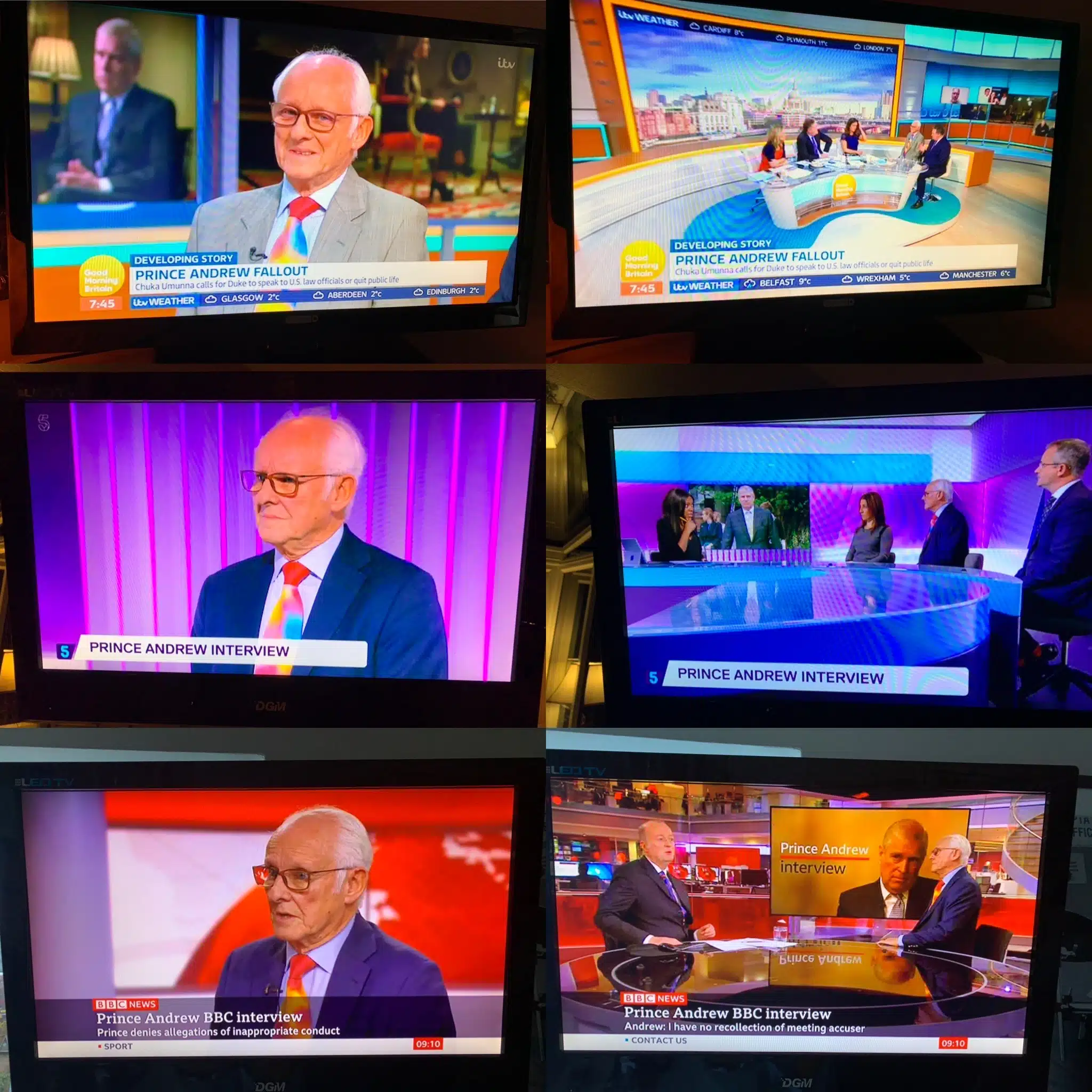 As a former Royal Press Secretary Dickie Arbiter LVO is well known for his expert Royal commentary. Working directly for HM Queen Elisabeth from 1988-2000, he knows her immediate family well.  So, it comes as no surprise that Dickie is the first person the world's media turn to when a Royal Story breaks such as the Prince Andrew interview.
Prince Andrew and his car crash interview on the New is a perfect example of this. Dickie has personal experience of working with the Prince and he was asked to voice his thoughts in the Telegraph.
This is what he wrote:
Prince Andrew is not a bad person, he's just not very bright. I worked in the Royal press office in the eighties and nineties and met Andrew on several occasions. He's affable enough but has a reputation for arrogance and poor judgment. Not everyone warms to him.
This interview shows all the problems he makes for himself by not thinking things through properly. To start with, why would you choose to be friends with Jeffrey Epstein? Andrew says he pursued the friendship for the contacts book it brought. Seriously? A Prince of the Realm, the son of the Queen, needs help networking? He's one of the best-connected people on the planet.
His performance in the interview was baffling. To start, there's the bizarre explanation of why he chose to stay at Epstein's house after he was convicted of paedophilia, which Andrew says he did to tell him they could no longer be friends. Who would do that? Surely a phone call would have been sufficient. Or, if he really wanted to do it in person, he could have stayed in a hotel. He's not exactly short of money.
Other things he said made no sense.
You have to wonder how Andrew's mind works if he can't remember meeting Virginia Roberts, but can vividly remember a meal in Pizza Express in Woking.
Honestly, it was daft to do the interview in the first place. He apparently originally arranged it as an opportunity to discuss the work he's doing. But he should have been clever enough to know that royal television interviews almost never go to plan.
Take the Duke and Duchess of Sussex's effort recently. The only part of the documentary about their tour to Africa that anyone remembers is that clip of Meghan saying that she's not satisfied with royal life.
Then there's Prince Charles's 1994 documentary. It's 25 years later and the admission of adultery in it still hangs over him. I wouldn't be surprised if the same thing happens to Prince Andrew after this.
The only person who manages to make it work is the Queen. She stays above it all by never giving away anything about her private life. Some royals think that if you get friendly with the press then they'll give you an easier time, but the truth is that once they have their foot in the door, you're exposed.
Luckily for the Queen, she's so well-loved that I doubt Andrew's misstep will damage.
However, it is a problem for any work he wants to do in the future: what charity will want his reputation lingering over them?
Prince Andrew wants to have his cake and eat it.
He sees himself as a senior royal and in a special position as the second son of the Queen. He wants to have an official position for himself and his daughters, but without taking on the personal responsibilities that come with that, such as making wiser choices about his friendships.
This could lead to further problems for Prince Andrew. He could be called to testify to US investigators, which could bring up even more awkward details. Perhaps his team thought this interview was a case of crisis management. But they have created an even bigger crisis with no management.
Dickie is an expert speaker and event host. He speaks in on a number of subjects including his time at the Palace and the relationship between the Royal Household and the Press. He is also an expert in PR and Comms, delivers Comms training and advises of Damage Limitation and Crisis Management.
Please call 01332 810481 or email info@thespeakersagency.co.uk to book Dicker Arbiter or for more information.