Business Tech: When the Pandemic Ends
Business Tech is here to stay by Katie King – Author, Speaker and Trainer.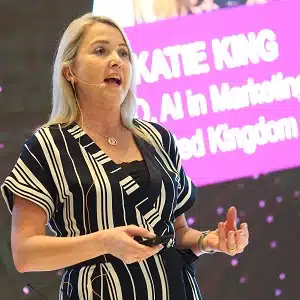 We're currently living through a truly unprecedented moment in history, at least in peace time. We have survived other crises and pandemics, but none that have disrupted business and daily life to this extent.
However, we are greatly privileged to have access to technology to keep us entertained and connected with one another. And it also helps us to maintain some semblance of normalcy and 'business as usual.' Work from home is no longer a luxury, but a life-saving must-do. Businesses have had to adapt quickly to the digital climate in order to keep things running for the foreseeable future.
But what happens when the dust has settled, and things return to normal? Will businesses continue embracing digital, or revert to their old ways? Here are some potential ways businesses may continue to use tech long term.
Training and Upskilling
One of the best advantages of technology is the ease of access it creates for a wealth of content. Even with stay-at-home orders in place, businesses and employees are still able to upskill and learn. Many businesses are hiring experts to conduct online training for their teams. In addition other motivated professionals are using this time to seek out training programmes and webinars on their own.
It is safe to say that virtual training will stick around once this is all over. Not only does online training provide access to experts regardless of geographic location. It is also incredibly convenient. Virtual training can be tailored to suit specific needs, and can often be delivered on-demand for learning at each individual's pace. Expect to see this method take root in your company's Learning & Development and HR departments, especially when training new recruits.
Business Tech – Automated Processes
This situation has left some of the most traditional businesses scrambling to adapt. They are having to reconsider the status quo. All of the benefits of digital transformation that these businesses have been resisting have become nearly impossible to ignore.
It is likely that the current circumstances have revealed processes that could be completed more effectively through the use of technology. Businesses may adopt artificial intelligence or machine learning technologies to help streamline these processes. Furthermore, it will improve efficiency down the road.
Business Tech – Remote Work
It is going to be very hard for employers to make a case against remote work when the pandemic has ceased. Thanks to Cloud technologies and software like Zoom and GoToMeeting, remote work is a feasible option for staff.
During this time, some employees will struggle with work from home arrangements, but others might find it suits them. It is highly probably that many businesses will utilise technology to let their employees continue to work in this way, providing more flexibility and work-life balance. Some businesses may even choose to transition to a fully-digital format from here on out, cutting back on office expenses and instead investing in new business tech.
It is unclear what our lives will look like once this is all over but one thing is for sure: technology is here to stay
More about Katie King
Katie King is a published author, keynote speaker and consultant on artificial intelligence (AI) and digital/business transformation. Particularly gifted at captivating audiences she helps make the complexities of artificial intelligence, social media, technology, and business easy to grasp.
Please contact sylvia@thespeakersagency for further details on Katie and her fees and availability at any time.