The Requisite Talents of After Dinner Speakers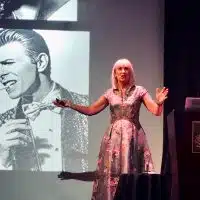 After Dinner speakers are a special breed. The very best are those who match their delivery to the type of audience they are entertaining. Furthermore, the masters of this craft know the golden rule is when to finish. After all there is nothing worse than having to endure a speech that goes on and on.
Many people associate after dinner speakers with comedians, but they don't own this domain. This arena is also full of talented and amusing speakers. They come from the world of business, industry, politics, education, medicine, celebrity, journalism, beauty, science. The list rolls on.
And there are also some magnificent men and women who have endured great personal hardship. These brave men and women deliver poignant, inspirational speeches that they pepper with whimsy. Masters of this craft, they have an innate ability to turn their fate into something magical and audience leave smiling and amazed.
After Dinner speakers usually speak for between 30 and 40 minutes and they are usually slotted in just after the coffee has been served.
It is worth noting that some after dinner speakers and, in particular, comedians and comediennes rarely, if ever, choose to join the dinner before their 'set'. They also tend to offer a shorter delivery of about 20 minutes.
History
After Dinner speakers have been around since the Ancient Greeks and Romans. In ancient times after dinner speaking was the preserve of the rich and always undoubtedly male. And it stayed that way for the most part until quite recently. However nowadays there are many women who are fine after dinner speakers.
Some of the people considered to be the first notable after dinner speakers were Mark Twain and Sir Arthur Sullivan. They were both renowned for their after dinner speaking capabilities.
According to Paul Fatout's Mark Twain Speaking, Mark Twain delivered over 150 speeches in the course of his career. Many of these were considered to be comic relief to the 'grandiloquent rhetoric' that many speakers delivered. Mark Twain stood for a stand-up performer as much as for an author. Apparently between 1867 and 1909 he appeared all over America and London.
Another after dinner pioneer was Sir Arthur Sullivan who delivered the first recorded after dinner speech in Oct 1988.
In recent times
From the mid 1950's onwards after dinner speakers were still usually men with very few female speakers. It was believed that women couldn't be as funny as men despite this being simply not true. Many of these dinners were also men only. Some of the brilliant after dinner speakers such as Politicians and Hollywood Actors, Comedians and Singers were revered for their speaking talents. Names many younger folk won't remember but who were wonderous. Sir Winston Churchill, Sir Peter Ustinov, Morcambe and Wise, Sir Lawrence Olivier, Willy Rushton, Sir Gary Sobers, Sir John Mills, Nicholas Parsons, Ronnie Corbett, Tommy Cooper, Harry Secombe, Steve Jobs and Leslie Crowther to name but a few.
The turning point for women
In my humble opinion this was when the United Kingdom elected their first Female Prime Minister.
Margaret Thatcher has to be regarded as one of the women who paved the way for female* speakers. And irrespective of one's [political beliefs she was a truly brilliant orator. Funny too. We have an impressive list of great female after dinner speakers and they include: Clare Balding and Jo Fairley. Dame Tanni Grey Thompson DBE and Nicky Morgan, Baroness Morgan of Cotes. Sally Gunnell OBE and Dame Kelly Holmes. Baroness Karren Brady CBE and Libby Purves. Camilla Thurlow, Martina Navratilova and Jo Brand.
Today
These days after dinner speakers are booked to predominantly entertain an organised room full of people who have had drinks and dinner. And whilst there are still men only dinners, and regular women only events too, most are mixed. They are usually a company dinner, a charity ball, a dinner to complete an away dinner or a dinner in between two days of conference.
International giants, hedge fund companies, financial organisations and small associations organise these types of events on a regular basis. And if there is food and drink to be had, there is usually an after dinner speaker at the end of the meal. Often a comedian/comedienne or someone who delivers a fun and entertaining speech, event organisers are increasingly looking for alternatives. And these range across a number of genres.
Great after dinner speakers include Ed Balls, Alexis Conran, Eamonn Holmes, Alastair Campbell, Leo Johnson and many, many more.
There are a number of Inspirational speakers like Ben Mcbean who blow their audiences away with their incredible stories that combine emotions. One minute you have a tear in your eye and the next you are aching with laughter. Or someone who can take the audience by surprise like Thomas Webb.
All our after dinner speakers are listed here
*In 2004 I launched womenspeakers.co.uk as I was shocked at how few women speakers there were out there. I found the attitude even that up to recently was "I have £10,000 so I want a male speaker / I have £500 so I suppose I will have to book a female speaker! I set about changing these unbelievable attitudes and this I did most successfully. Not only did womenspeakers.co.uk change the way people, and surprisingly most were female bookers, looked on female speakers but I also made sure that women were paid the same fees as men. In 2017 I amalgamated womenspeakers.co.uk into The Speakers Agency as all speakers are now regarded as equal. Mission accomplished.
Please contact me Sylvia Tidy-Harris or one of my team here