The Speakers Agency in Conversation with Alex Alley
Catching up with Alex Alley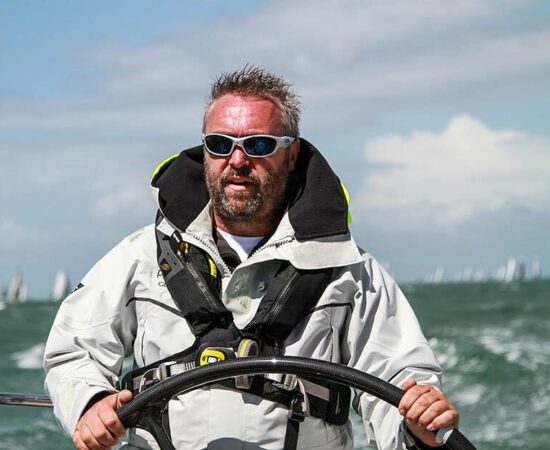 Alex Alley is a Multiple World Record and World Champion sailor, Round the World Yachtsman and exceptional motivational speaker. He is also the co-author of 'Boat to Boardroom' and 'The 7 Racing Rules'. Alex uses the valuable skills in tenacity, resilience and Adventure Psychology which he has acquired over the course of his career to help companies and their employees develop strong 'can-do' attitudes in their working and personal lives.
The Speakers Agency spoke to Alex to learn more about his experiences at sea and we asked how he identified the connections between sailing and the business world:
Please could you sum up the basic principles of Adventure Psychology?
Adventure Psychology is essentially a performance tool. It's similar to Sports psychology. Now, a lot of people have heard of Sports Psychology, but Adventure Psychology is slightly different. A lot of businesses use Sports Psychology for performance enhancement, but the problem with this is that it often deals with a fixed time scale and fixed regulations. So, for example, if you have a 100m run, you know you've got a 100m track, a lane that's three feet wide and that there are seven other runners next to you. You know that you've got to run in a straight line as soon as the gun goes for approximately ten seconds, and then when you get to the end that's the end of your race.
Now, business is different to this. Business isn't fixed like that. There isn't a set time frame and it's not as regulated. So, the idea of Adventure Psychology is to teach people how to go knowingly into the unknown. You never know what's going to happen when you're on an adventure, just like in business. You never know for certain what's round the corner, so you need to prepare for lots of different things, especially the unexpected. This happens in sport as well, but like I said, sports are usually governed by a lot of constraints and rules, whereas in business, of course there are some constraints and rules, but there are also a lot of things that are outside of your control. It doesn't start at the beginning of a game and end after 90 minutes like a football match; business is ongoing all the time. Those businesses that learn to prepare for the unexpected, they're the ones that survive.
One of your biggest achievements is sailing solo around the world for over 70 days. How did you deal with the loneliness of this?
A lot of it was about the preparation. I spent in total 76 days alone at sea, completely isolated, with no other boats around me. Often I would go for days, sometimes weeks, without seeing another boat or plane or anything. But I thrive in those conditions, because I planned for that, and I knew what to expect. Although a lot of unexpected things did happen. I had to rebuild my water-maker as that broke a few times. I had issues with my autopilot, so I was constantly busy and constantly working on things. So, although I was alone, I was never lonely and there's a big distinction between those two things. With modern technology and satellite communications I was able to keep in touch with people pretty much all the time. I was getting emails coming in from friends and from my weather router who was helping me choose the optimum course for achieving the world-record. I was in touch with people back home. And when I did have problems with some of the equipment on board, obviously I could email the manufacturers and speak to them. Although, sometimes it wasn't very helpful when they'd say "Just post it back to us." That was quite amusing, I had to reply, "I'm on a solo, non-stop round-the-world trip!"
It's having that goal, that purpose, and a constant focus on what you're there to do that's so important.
Your book "From Boat to Boardroom" has been hailed as a leadership book that reads like an adventure story. At what moment did you realise that all the things you were doing and learning whilst sailing were applicable to business?
It was a lightbulb moment towards the end of an around-the-world race that I was involved in. In this race was team of 18 crew members in a 72ft boat racing all around the world in seven legs. And it was really like running a business. The analogy I use when I talk to businesses is: On the boat you have your captain, someone who is ultimately in charge. And in a business, you have your chief exec, your CEO. So, they are essentially the 'skipper' of your boat. And the saying goes, "We're all in the same boat." This is exactly the same in business. You're all in it together, working towards the same goals, the same aspirations. You'll have competitors, just as we do when we're racing. The trick is to acknowledge that they're there, but not to waste time and effort worrying about them because you can't control them, you can only control your own boat and who you've got around you.
When we're racing, we also have to deal with the climate. So, the wind affects us when we're sailing, but again we don't waste time worrying about it, we just have to understand how to deal with it and make the most of it. And in business you have a financial climate, and all sorts of other climates that can affect you. There may be government legislation that affects you and your competitors. So, it's about understanding how to make the most of these.
You also have goals in both situations. Whether it's a three-year goal or a five-year goal, there's always something to be aiming towards. For us, racing around the world, we wanted to be at the top of that podium holding that big trophy at the end. So, we had a tangible vision on that yacht, and it's the same thing in business. It's about finding unifying tangible goals and visions that people can buy into.
So, towards the end of my 10-month round -the-world race I suddenly realised that actually there is a huge synergy between sailing a yacht and running a business. And that's where 'From Boat to Boardroom' came from. It's almost two books in one. The first part is the story of racing round-the world. And the second part are the business chapters, which effectively use case studies from this experience. There are chapters on leadership, teamwork, communication, crisis management and so on, all using examples of our actual race, bringing them to life and relating them back to the business-world.  The connection is huge, and the more we got into writing the book, the more we realised how strong that connection was.
What examples do you have of when your speeches and workshops have created lasting and impactful change within a company?
There's a couple that spring to mind. There's a very big blue-chip company and I did some work with their Directors and Leadership team many years ago. I still get messages from them every so often, and in their boardroom, they have a plaque hanging up. On the plaque is printed 'Best for Boat.' This helps them with decision-making, and the idea is that everything they do should be the best thing for the whole boat, the whole company. This can help by taking a lot of the emotion out of decision-making and encourage people think not about what's best for me, you or an individual, but about what is best for the whole organisation.
Alex Alley has spoken at conferences and helped companies all over the world. His experience and style of delivery has meant that he has addressed audiences of all kinds, from sales teams to the boardroom, and charities to some of the world's biggest blue-chip companies.
For more information on booking him for a speech or workshop for your team, please contact The Speakers Agency on +44(0)1332 810 481 today.