Rocket Scientist joins The Speaker Agency
"When the stakes are high, the unknowns are threatening, and the problems seem insurmountable, you need a superhero — which means you need Ozan Varol".
New York Times bestselling author Dan Pink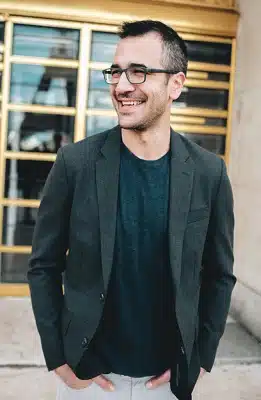 The Speakers Agency is delighted to welcome the US based, former Rocket Scientist  Ozan Varol.  Ozan is an incredibly captivating speaker, and is currently available for virtual bookings through us.
He is a fascinating keynote speaker whose delivery is both riveting and incredibly thought provoking.
A former rocket scientist turned award-winning professor, Ozan is also a bestselling author. His book Think Like a Rocket Scientist: Simple Strategies for Giant Leaps in Work and Life makes for insightful and intriguing reading.
Furthermore, he is regarded as the world's foremost experts in creativity, innovation and critical thinking.  He refers to himself as a contrarian. In effect he is someone who looks at conventional wisdom and asks "Why?" and "Is there a better way?"
Based in Portland, Oregon and currently teaching at the Lewis and Clark Law School, Ozan is also an award-winning law professor.  He teaches in the areas of constitutional law, criminal law and procedure, and comparative constitutional law.
Ozan's Speeches
Ozan has four popular speeches as listed below but he also tailors speeches to client's briefs. He has spoken all around the world and his list of clients include Microsoft, Intel, adidas, the U.S. Department of State, and the U.S. Navy.
How to Think Like a Rocket Scientist
In this keynote, Ozan will reveal nine simple strategies from rocket science that the audience use to make their own giant leaps.
Think Different: The Power of Cognitive Diversity

In this keynote, Ozan shares a lively, anecdote-filled roadmap. Business leaders can then use it to promote a thriving corporate culture and which harnesses cognitive diversity.
The Power of Contrarian Thinking

This keynote has Ozan focusing  on the power of contrarian thinking. That is the ability to question and redefine conventional wisdom to generate breakthrough innovation.
Why Nothing Succeeds Like Failure
During his working life so far, Ozan has interviewed some of the most amazing individuals.  They hail from all walks of life and shared their failures from both their personal and business lives. In this speech he shares this wealth of knowledge and inspiration with the audience.
Testimonials include
"I felt like I was watching a live TED talk."
Mark Whalen, VP for Shickel Corporation
"Ozan's presentation rocked the house at Lawyernomics and got rave reviews from the attendees. Many called it the 'highlight of the conference."
Jess McMahon. Senior Events & Creative Producer, Avvo
Ozan is well on his way to becoming a household name. He is incredibly bright, professional, easy to work with, responsive and kind. He speaks with ease and keeps his audience intrigued and engaged. His stories are fantastic. For all he has accomplished, he's incredibly humble. Book him. You won't regret it.
Anika Hedstrom, Vista Capital Partners
Please contact holly@thespeakersagency.com for more details about Ozan, and his availability and fees.