Kerry Daynes on Discovery Investigation – Faking It: Tears of Crime
Criminal Profiler Kerry Daynes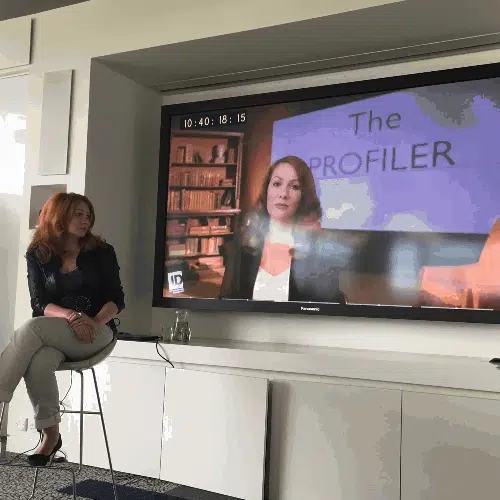 Starting 18th August at 10pm the second series of Faking It: Tears of Crime is on Discovery Investigation for six weeks and consultant forensic psychologist and profiler Kerry Daynes hares her observations of the seven emotional leakages evident in the six cases covered in this series. The murderers under scrutiny in this series are Ian Huntley, Oscar Pistorius, and Tracie Andrews. In the first episode Kerry who works with some of Britain's most complex and challenging criminals, profiled Huntley on the programme. She said: 'There was no planning on the part of Huntley in terms of him not knowing that Holly and Jessica were going to arrive that day. 'He's already assaulted young girls, so he's rehearsed it behaviourally. So, this isn't something that comes out of the blue. This is something that's been in the back of his mind, maybe in the forefront of his mind, for some time.'
The previous series which has been watched by over 1.9 million people featured the killers Stuart Hazel who killed his lover's granddaughter Tia Sharp and Mick Philpott who with his wife set fire to their home and watched as their sic children died. as a criminal profiler Kerry Daynes also gave her observations about the case of Shannon Matthews and how the lies her mother Karen Matthews gave throughout the search for her daughter revealed so much. The telling body language, what was said and how they delivered it. The series is fascinating and Kerry is equally so – her speeches are superb, her delivery impressive and what makes her so unique is she makes her everything she says accessible. Her speeches include:
Is There A Psycho in Your Life?
Who hasn't complained about their 'psycho' boss or 'psycho' ex, but what does the term really mean? Kerry explains why Norman Bates was definitely not a psychopath, but one in a hundred on your list of Facebook friends probably is. This talk will tell you about what makes a psychopath tick; what goes on in their mind and in their brain (literally), how they came to be like that and what we can do about it. You will be left equipped to spot the warning signs of a possible psychopath – how they operate in different roles and environments – chances are, they are closer than you think.
Secrets of Success from the Corporate Shark
According to the latest research, around one-fifth of business leaders show psychopathic, narcissistic and Machiavellian personality traits – the same rate as the prison population! Kerry explains the career related benefits to being a corporate shark, but at what costs? With examples from the study of paragons of virtue to serial killers, this talk examines the true nature of modern leadership.
To book Kerry to speak please call +44 (0) 1332 810841