Preethi Nair's Incredible Story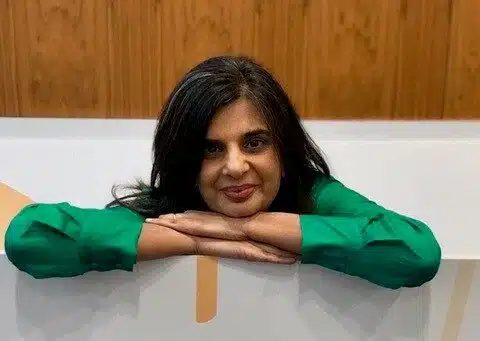 Preethi Nair is a hugely talented speaker, storyteller and author. 
Her latest speech is about the importance of individuality and she expertly incorporates her observations on diversity, equity and inclusion along the way.
When Preethi was seven years old, she had two main ambitions in life:
To be blonde
To be a writer
One day, she picked up a wayward yellow felt-tip pen discovered underneath the sofa. Instantly inspired by its potential to fulfil her blonde ambition, she excitedly shaved off her black bushy eyebrows. She then hastily coloured the empty space with the yellow pen and skipped proudly off to school to show off her new look.
What followed was catastrophic, and to a large extent shaped what was to follow later in adulthood: Deception, betrayal, a double-life…but we will come to that later.
Unfortunately, around the same time, Preethi's second ambition – to be a writer – was also prematurely quashed.  An unexpected visit from the Encyclopaedia Britannica (EB) salesman led to her immigrant parents parting with the family's entire life savings. Her father wanted Preethi to be a lawyer and was sure that the route would be through the EB.
Against all the odds, Preethi didn't become a lawyer. She became a management consultant.
Becoming a writer
Unfulfilled in her management consultancy role, Preethi bravely made the decision to leave her job to set up her own publishing and PR company after her manuscript, Gypsy Masala, was rejected by most publishers. She established multinationals in her bedroom. Furthermore, she appointed feisty director, Pru Menon (an alter ego named after her childhood nemesis), and finally she infiltrated the publishing world. This was a world she knew nothing about, but where she was most definitely the outsider.
Preethi embarked on this journey all whilst putting on a suit everyday and pretending to go to work; she couldn't bring herself to tell her parents that the Encyclopedia Brittanicas had been a complete waste of money.
After a roller coaster of a journey and faced with constant rejection, Preethi eventually signed a three book deal with HarperCollins. Her alter-ego Pru was short-listed as Publicist of the Year, and Preethi won the Asian Woman of Achievement award for her endeavours.
Preethi went on to set up a company that teaches senior leaders the importance of creating engagement through storytelling.
Subsequently, she identified the lack of representation in theatre for diverse work. Despite never having acted before (the childhood nemesis Pru used to get all the parts) she rose to the occasion.  Preethi wrote, acted and produced a one woman show in the West End. It was a great success and is currently being adapted for television. Preethi has also just completed her fourth novel.
Preethi's talk is ironically about being yourself and creating the change you want to see. It is about not fitting in, but rather standing out.
Previous Testimonials
"When Preethi is hired to share her unique insight into story creation she does so by opening a window into her own amazing life. Within an event that boasted other speakers such as Sir Bob Geldof, she was the one most we were most impressed by and wanted to follow up with. If your brand or business has a story that customers should value go talk to her!"
The Innovation Company
Preethi Nair was born in Kerala, South India in 1971 and came to England as a child. She studied at the universities of Cardiff and Warwick.
For more information on booking Preethi as a speaker, call us on +44(0)1332 810481 or email enquiries@thespeakersagency.com today.