Introducing 'The Making of Black Britain'
Introducing 'The Making of Black Britain'
Do you want to be a part of creating history?
"To be part of history, and shape the future, someone needs to hear your story and remember it."
Many people say that at some point throughout their lives they experience the immense feeling of regret at not asking our loved ones enough questions whilst we had the chance. Unfortunately, this sense of urgency to find out as much they could about one another usually happened when it was already too late.
Diane Louise Jordan, former Blue Peter and Songs of Praise presenter, and highly revered speaker, felt the exact same way upon losing her parents, Harold and Norma. She describes losing them as being synonymous with losing 'part of her story.'
It was at this point that Diane discovered that she had a newfound calling in life: to encourage people to ask one other as many questions as possible whilst they still have the chance.
And as a result she has become determined to create a space in which all stories, large or small, could be heard, documented and remembered. Such was the birth of The Making of Black Britain.
The Making of Black Britain is an Oral History Project, which recently launched on Google Arts and Culture. The project commemorates the 75th Anniversary of the 1948 British Nationality Act. Ultimately, it aims to explore what it means to be British, giving the people of Britain the chance to Speak, Listen, Belong.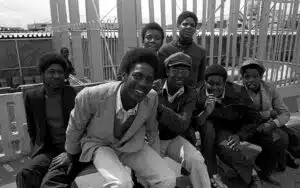 Diane and her family grew up with the label 'Black British' and it was only upon reflecting on her own life, her parent's lives and her Jamaican heritage, that Diane began to dissect what exactly this term really meant to her.
Of course, words such as identity, belonging and Britishness all mean profoundly different things to different people.
So, Diane decided that setting up a 'living' storytelling project, to enable people to talk freely about all of these different components of identity, was the best way to explore this.
By talking to all different ages, creeds, classes and ethnicity, The Making of Black Britain is there to encourage everyone to engage with one another's histories and lived experiences.
As well as being available for keynote speeches on topics such as 'What does it mean to be British?' and 'Beyond Black History', The Speakers Agency is delighted to offer companies and organisations the opportunity to play an active part in The Making of Black Britain historical archive. By booking Diane and her team to deliver Digital Storytelling Workshops, companies also learn how to create a safe space for discussion. She also assists them in triumphing diversity, inclusion and a company's CSR.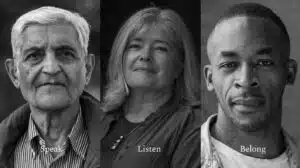 Diane's Digital Storytelling Workshops take place over a series of days – usually three days but this is  dependent on how many people are involved.
The days are comprised of Diane and her team facilitating personal and educational conversations among colleagues, all in the presence of a camera crew.
This creates the opportunity for both employers and employees to discuss and explore issues surrounding race, family, community, work, food, identity, language, etc. all whilst being part of a national historical project in the process.
Diane, like many of her peers, is particularly busy in October as it is Black History Month but companies are increasingly booking speakers to cover diversity, equity and inclusion across every month of the year.  Equally, her workshops are relevant at any time too.
More information about Diane Louise Jordan
Diane is an exceptional Motivational, D&I, Work/Life Balance, Team Building, Emotional Intelligence and Celebrity Speaker. Uplifting, informative and fun to listen to, Diane is an impressive speaker and host. She has served audiences and communities as a TV and Radio broadcaster for over 30 years. In 1990, Diane made front page news as the first black presenter of BBC1's legendary Blue Peter. Diane has hosted many iconic British programmes, including BBC1's Songs of Praise, and BBC Radio Two's long running The Sunday Hour.
As one client remarked after booking Diane said,  "Louise Jordan is a joy to work with. She keeps her audiences engaged, enthralled, and inspired.  A consummate professional she is flexible and responds to the audience and shares her values, experience and personal motivations. As one client described her, she is a "captivating speaker for any audience and an awe inspiring person."
Her extensive television work has earned her the enviable description "presenter across boundaries".  At the start of her television career, Diane initially challenged boundaries by becoming the first black presenter on 'Blue Peter'. Such was her popularity that when, six years later, Diane decided it was time to move on, the programme's editor dedicated two complete shows to her departure. This was a first in the programme's history and nearly a million people telephoned over two days voting for their favourite moments of Diane.
Diane's other TV credits include 'Out & About', 'Bright Sparks', 'Grandstand' (all BBC), 'Animal Tales' and 'Dream Ticket' (LWT). Her love of people and ability to think on her feet are qualities that have made her the right choice for 'live', high profile events such as the BBC's 'Millennium Extravaganza', 'Music Live' and 'Children in Need' as well as hosting a number of live radio shows.
However, one soon begins to realise that 'Presenter' tells only a small part of the story. Diane is an accomplished speaker, often invited to speak at corporate conferences, workshops and high-profile charity events. Such is her success that she has launched her own motivational company, Chronicle21, offering bespoke talks and training packages. Diane Louise Jordan is able to bring innovative and thought-provoking ideas that make a real difference both in the lives of individuals and companies. Diane is able to challenge and inspire audiences from every walk of life regardless of life experience or social background.  She has also written a book entitled 'How to Succeed as a Single Parent' which was published in 2003. As a seasoned actor, Diane has performed the length and breadth of the country and has graced both the small and big screen with appearances in 'Coronation Street' and Mike Leigh's 'High Hopes.'
Diane devotes many tireless hours to her charities, all of which reflect issues close to her heart. She was a Vice President of NCH and Patron of many other organisations including The Oasis Trust, The Mildmay Aids Hospital and GOSH Jeans for Genes. Her wide-reaching appeal was a deciding factor in Chancellor Gordon Brown's invitation for her to sit on the Diana, Princess of Wales Memorial Committee – the only TV celebrity asked to do so. She is also very proud to be one of the trustees for the BBC's long running and hugely successful Children In Need Appeal.  Diane's underlying passion to encourage, motivate and inspire all people to "be the best they can possibly be" means that she seizes every opportunity to engage with all, young and old alike.
To book Diane Louise Jordan as a speaker or to secure her to deliver one of her Digital Storytelling Workshops please contact The Speakers Agency or call +44 (0) 1332 810481
*Photography in this blog by Vanley Burke