The Speakers Agency in conversation with Jesse Dufton
Jesse Dufton answers your questions
Jesse Dufton was born severely sight impaired and advised he may never be able to read or write. Today, he's totally blind. Not only is he now an elite rock climber, but he has also excelled in the academic and corporate spheres gaining a doctorate in Materials Chemistry.
The Speakers Agency caught up with to Jesse to learn more about his extraordinary life.
What was your motivation for getting into rock climbing initially?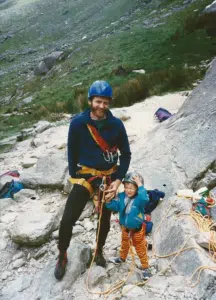 I like to joke that I didn't have a choice… My dad took me climbing at the tender age of 2, basically as soon as I could walk. He taught me to climb when I was growing up and I remember becoming proficient enough to lead climbs when I was 11. Bear in mind, that I was severely sight impaired at this point, the positivity instilled in me from such an early age has had a huge impact on my resilience and ethos. This was critical when I lost the little sight I was born with, as I essentially had to learn to climb again. It was hard, but I was determined not to let my disability deter me from climbing and the sense of adventure, achievement, and freedom it brings.
You talk a lot about resilience in your speeches, how do you maintain a positive mindset when things get tough?
Mindset is critical when you find yourself in overwhelming situations. I wouldn't say that I actively seek climbs which are scary, but, if you climb enough those situations will find you, and I've had my share. What is critical is having the ability to deal with those situations when they arise. So many elements contribute; knowing yourself and realising when the fear is building in you, lets you lessen its impact, there are several things I've learned to do to aid this.  But recognising the situation and accepting it is only the first stage, then you must be able to plan a route to safety, and most importantly put the fear and doubt aside as you execute that plan. Belief, resilience, and self-confidence are hugely important, but they must be rooted in rationality. Like mindset in general, I think that they can be improved with conscious effort, which is something I've learned to do through my climbing in recent years.
What is it that keeps pushing you to do more routes and dangerous climbs? Where do you think that sense of ambition comes from?
It's intrinsic motivation, I feed off the sense of mastery that comes from climbing routes at my limit. The challenge posed is so multi-faceted, comprising the physical, technical, and most importantly the mental elements. I know that, with effort and planning, I can still make huge improvements in my climbing. Losing my sight has altered the challenge, but it hasn't stopped me from seeking to progress, and as I improve, I seek new challenges which will test the gains made in each of those facets and the gestalt they comprise.
Could you describe a little bit about your day job in sustainability, and what this entails?
I work on hydrogen fuel cells, one of the critical technologies for decarbonising sectors where other zero-carbon approaches, such as batteries, are not viable, decarbonisation of air travel is a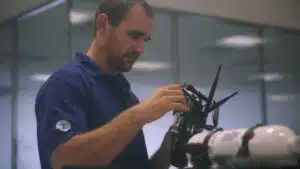 notable example. But clearly, fuel cells are applicable in a host of applications from motive (trucks, buses, and cars) to off-grid power as well as materials handling and unmanned aerial vehicles (UAVs). Specifically, I manage intellectual property, working with our engineers to develop and protect their inventions through patents, trade secrets and copyright. It means I am always working on the bleeding edge of clean energy technology.
For me my work in the vanguard of clean energy technology has special significance as, through my climbing and arctic expeditions, I've been exposed to the tangible effects of the already changing climate on fragile mountain environments. Applying the "leave no trace" ethics instilled in me since my earliest climbing experiences, I am compelled to ensure the rapid transition to zero-carbon technology is the defining zeitgeist of my lifetime.
You have excelled in both adventure sports and the corporate world; do you find that the skills you regularly draw on for each overlap?
Absolutely. The first thing which comes to mind is the mindset which has a few components; from the ability to calm myself before a difficult or potentially dangerous climb or before a consequential business meeting or presentation, to the ability to focus on the critical when I am tackling the crux of a climb or when diving deep into highly technical and complex work. There is also the trust and teamwork skills which are tested in high-pressure situations in both worlds. My two worlds complement each other perfectly, my climbing continually shows me the importance of my work enabling the clean energy transition, and my analytical and communication skills from my work help to improve my climbing.
In your experience of working in a senior role in a global company, what advice would you give to corporations to support people with disabilities within their organisation?
Remember that disabled people are individuals and that one size fits no one. Looking at any adaptions which may be appropriate on a case-by-case basis is the best way to build a synergistic relationship with employees. Never forget that the effects of a person's "disabilities" are not all negative. When a person must problem solve every day as society often wasn't designed with them in mind, they become very adept at finding creative solutions to problems. For them, it is totally normal to do so, but this power is anything but "normal." Don't squander that lateral thinking and creative approach, it's an extremely valuable asset to any business.