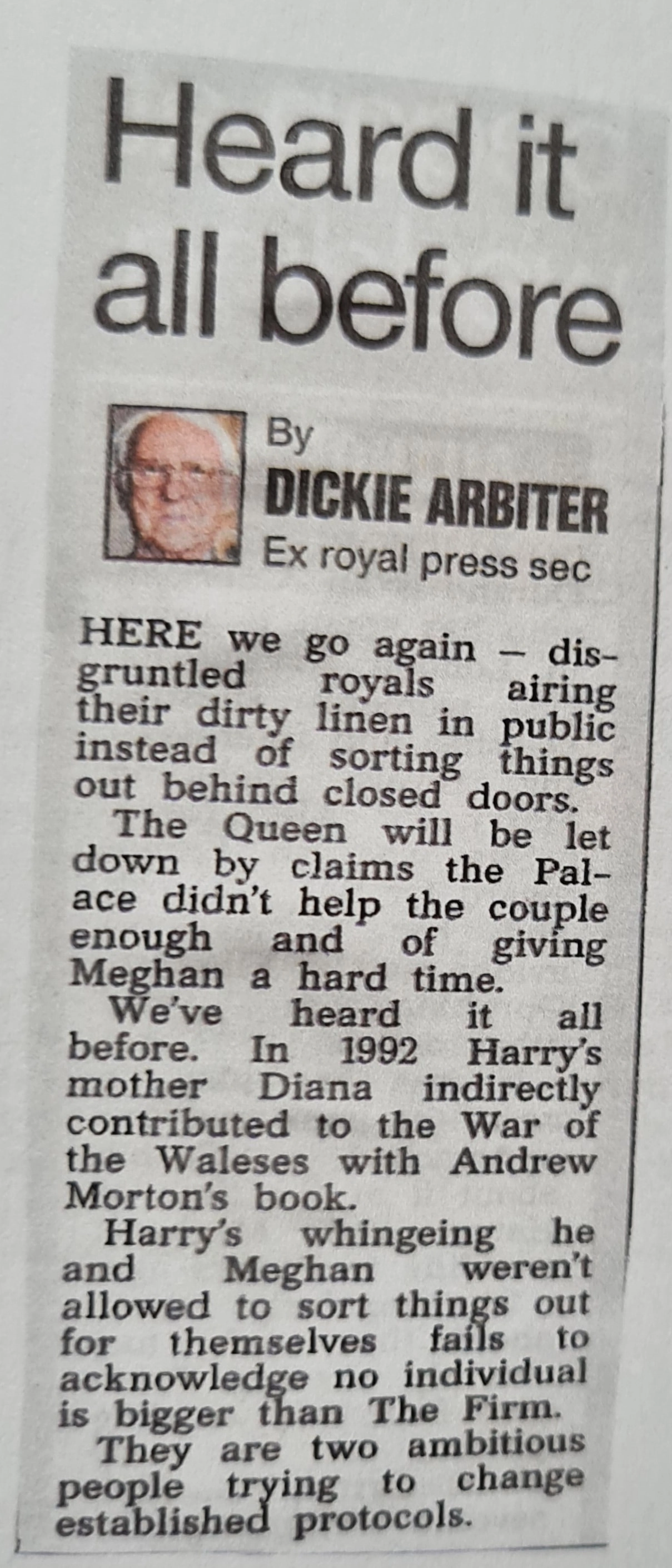 Finding Freedom is causing quite a stir.
Harry has never been completely happy with his royal status. It's something he should have addressed at the most, before he went into the army in 2005 or at the very least when he left it in June 2015. Furthermore, he certainly should have considered his royal position before marrying in May 2018.
Firstly reaching an early decision would have saved the cost of an expensive wedding.  Secondly , it would have saved the taxpayer an expensive security bill. Moreover, it would have saved The Queen the bother blowing the cobwebs off the Dukedom of Sussex.  A title which had become extinct following the death of Prince Augustus Frederick, sixth son of George III, in 1843.
Prince Harry's grandparents, The Queen and The Duke of Edinburgh will be deeply disappointed, let down and angry, by his claims, These include lack of help from the Palace and of giving Meghan a 'hard time in the House of Windsor'. There are further claims of 'hostile courtiers', even referring  to them as 'vipers' who gave 'negative briefings'.
Finding Freedom
The revelations in Finding Freedom, are much of which we've seen before.  Her Majesty and Prince Philip may view as a tad déjà vu. They have been here before.
Many will remember in 1992 the War of the Wales's was coming to a head.   Harry's mother had indirectly contributed with Andrew Morton's best seller Diana Her True Story.
In addition in 1994 his father's confessed, to having committed adultery in a television interview with Jonathan Dimbleby, while still married to Diana.  The Princess retaliated a year later in a BBC Panorama with her infamous quote, " there were three of us in this marriage, so it was a bit crowded." 
Harry v Edward Vll
Some commentators have likened Harry walking away from his duty to Queen and country to Edward VIII throwing in the towel in 1936. Thereby creating the potential of a constitutional crisis.
This is absolute nonsense. Edward VIII throwing away his throne could have plunged the monarchy into a crisis.  Thankfully his brother 'Bertie', put duty, the country, the empire and the survival of the monarchy first, and took up the vacant throne as George VI. The rest is history.
Harry's move, on the other hand, to be financially independent doesn't even come close to a constitutional crisis. Edward VIII was King, Emperor, Commander-in-Chief and Supreme Governor of the Church of England. Short of a catastrophic disaster, Harry is sixth in line to the throne so has zero likelihood of wearing the crown. The only similarity Harry has with great-great uncle Edward is that both men walked away from duty. They abandoned the monarchy and their country because of the women they loved.
William and Harry
Of Harry's rift with his brother William, the book suggests its genesis was his older brother's concern Harry was rushing headlong into marriage too quickly. That he asked Harry if he was sure about 'this woman'.
Harry allegedly took umbrage at William's reference to Meghan, but that's what siblings do. They lookout for each other. Harry miffed at his older brother's concern, highlights his immaturity and petulance in allowing his heart to rule his head. As a result, common sense was kicked into touch.
Entitlement
What does come jumps out from the Times and Sunday Times serialisation is the couple's need for 'entitlement'.
Only The Queen is qualifies for 'entitlement' and she is 'entitled' to the full support from the wider Royal family. It has to be remembered that no one individual in the Royal family is bigger than the institution. Sadly, what we have in Harry and Meghan is two angry, ambitious people trying to change established protocols and justify why they turned their backs on Queen and country.
What was really said and by whom
When pressed the authors claim not to have had an interviewed, or been briefed, by Harry and Meghan. They claim this even though their finger prints seem pretty visible along with sanctioned briefings from friends.
For now it is very one-sided and until such time we hear the other side of the story,  from William and the Palace,  we have to take Finding Freedom for what it is. Just don't hold your breath.
Former Royal Press Secretary Dickie Arbiter is a fine speaker and media commentator on all things Royal,  He contributes to Royal Documentaries, the press and news channels, and is in demand across the world for his genuine, non speculative and knowledgeable expertise.
An excerpt from the above blog by Dickie Arbiter was printed in the Sun on Sunday on 26th July 2020