Online entertainment is proving hugely popular
Online entertainment is proving a hugely popular alternative to live Christmas Parties
The Speakers Agency has seen a huge increase in online entertainment inquiries.  Clients are planning events to thank their hard working staff.  They are also looking ahead to Christmas. Furthermore they are including all types of entertainment. These include comedy, music, food & drink tastings and quizzes.  Some are engaging event organisers and studios to help produce first class online events.  Others are curating them, themselves.
In particular cocktail classes and quick fire quizzes are proving hugely popular.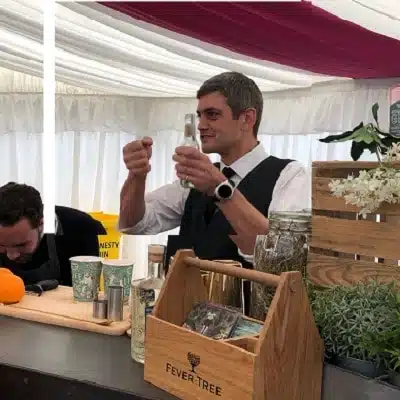 In particular clients are booking celebrities to host sessions which include many elements including cocktail making with Merlin Griffiths. Merlin is the UK's most loved barman from the series First Dates.  He also appears regularly on James Martin's Saturday Kitchen. A highly experienced mixologist Merlin mixes his knowledge, experience and humour with cocktail wizardry.
Merlin offers to tailor his demonstrations, workshops and competitive sessions to the client's requirements.  Many clients send out the list of his suggested ingredients so they have them to hand.  Others like to send their participants sample gifts with the ingredients, or some of them, ahead of the session.  He can make them as interactive as the client wishes and the audiences love it.  In addition and ever conscious  that many people don't drink alcohol Merlin always includes virgin recipes.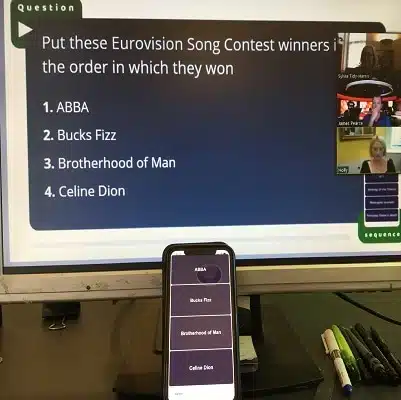 Likewise clients are enjoying online quizzes with sports presenter James Pearce who runs one of the best competitive sessions I have come across.
With a free downloadable app  which provides you with a keypad, the sessions which are held on Zoom bring much mirth and hilarity.
When we tried it in the office we were literally cheering when we scored a point. Seeing our names lit up on screen and who was highest on the leader board was such genuine fun.
Celebrity team captains can be provided but are not essential as departments or individuals go up against each other.
To book Merlin or James, or to inquire about other online entertainment available for your virtual session please contact us here. Alternatively please email holly@thespeakersagency.com