Cartoonist Bill Tidy lost his power of speech but kept on drawing
The award winning and UK's best loved cartoonist Bill Tidy MBE is my dad.  He is the man who taught me to love reading and very usefully how to speak in public.  It was a speech I did at my wedding which generated the idea for the The Speakers Agency.
Dad has always encouraged me in everything I have done.  I have had the best bespoke birthday cards which depict a special moment in each year gone by since I was a baby.  He even drew the most fabulous seating plan for my wedding, adding famous people like Bill Clinton and Monica Lewinsky to it.  It caused much mirth and gossip too.
I have had so many fun moments in Dad. At the height of his career he would take me with him to London from our family home in Southport and I would to watch him draw live on TV.  Quick on the Draw with Michael Bentine, Blankety Blank with Terry Wogan. He was even on This is Your Life with Eamonn Andrews.  Both him and mum have been massive influences in my life.
And as I read Angela Epstein's wonderful piece about Dad today in the Daily Mail  it has made me reflect on the last eight months since Dad had his stroke. He has done incredibly well and whilst now very frail and reliant on a walking frame, he still loves to draw. And he can still draw as well as ever.  Better still he is selling cartoons and even shedding his rather huge archive.
Strokes can affect people in so many ways and the one that hit Dad was a big one.  I completely lost it when I found him in the shower. He'd been there for hours.  Luckily, he was sitting upright and under warm water. I can't bear to think of what would have happened should the water have been too hot or too cold.
The emergency services were amazing, calming me down and arranging the ambulance for him.  Dad was unable to speak but kept putting his thumb up.  I had covered him with towels to keep him warm. The ambulance crew arrived and then called the Fire Service.  They were needed to take the shower doors off to get him out.
One of the ambulance men recognised Dad and talked to Dad about his cartoons and the TV shows he had appeared on.  I am sure that made Dad more alert than he might have been otherwise.  Thankfully he doesn't remember my hysterics. He actually doesn't remember much from the first three weeks.
Dad doesn't really remember when I told him we had lost mum either. But he knew she had died. Understandably that was just the worst thing I have ever have done.  I broke his heart that day.
They were six months short of their Diamond Anniversary and a telegraph from the Queen.   Mum didn't know Dad had had a stroke.  I hated telling her fibs about him feeling a bit fluey so he couldn't visit her.  He had his stroke four days before mum died.
Lockdown was hard
Lockdown was so hard and even today I still dare not hug Dad.  I couldn't forgive myself if somehow in my brief forays to the supermarket, I picked up COVID 19 and passed it on to him.  My brother Rob is doing a sterling job living with Dad and looking after him.  It is a big responsibility with little respite as Dad just wants to be at home.   Rob has introduced Dad to Shameless which they are binge watching each evening.  All 13 series!!  We've said we are going to start hugging very soon and I visit them both four or five times a week.  We say I love you to each other every time we part.  They live four miles away from me so not far.
Dad was the quickest cartoonist on the planet and his illustrated after dinners were hugely popular.  Famed for cartoon strips in the Mirror and Private Eye, he is also well known for iconic cartoons such as," Is there any news of the iceberg?"
He misses doing them and travelling on cruises as the celebrity lecturer too.  Mum loved to accompany him everywhere.  They still held hands. They were still madly in love.
Bill Tidy MBE still loves to draw, remarkably his hand is still steady and he still likes to sell his cartoons.  It makes him feel valued and useful.
Here is one of Bill Tidy's most iconic cartoons.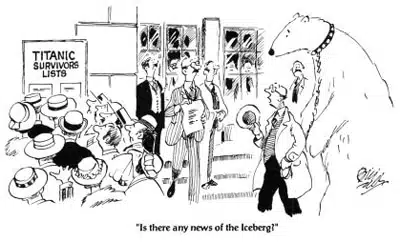 All inquiries for Bill Tidy MBE and his artwork can be emailed to sylvia@thespeakersagency.com