Working from Home
I don't like working from home. There are too many distractions.  And I find myself listening to the news way too often.  But who can blame me.   don't ever remember living through such a live historical moment as we are right now.  An outgoing US President refusing to budge from the White House! The UK's detachment from Europe via BREXIT and the COVID 19 Pandemic….
Our future generations will undoubtedly look back on these times as many of us already look back on Watergate, the introduction of decimalisation in the UK and the arrival of Aids.
Times are scary and people are worried about their jobs, the economy and their health.
Well most are but unbelievably some really don't appear to give a damn.  I for one am pretty fed up of the anti-mask wearing brigade. I am so frustrated at the party revellers who ignore the tier and lockdown restrictions. And I despair of the naysayers and constant moaners who are all about themselves.
Creativity
What cheers me up is the wonderful and creative initiatives small business owners are taking upon themselves to keep their customers informed and updated.  Many have had to adapt to selling their wares via the various social media platforms and it is working.  High street shops have realised the lack of a website was stymying their full potential. That online was simply adding another string to their bow.  Sadly, some are still to do this and as a result in the second lockdown they are lagging way behind. No point moaning about it – just get on with it.
The Speakers Agency adapted immediately without taking a breathe.  I hosted free virtual meet the speakers sessions and found the time to network on LinkedIn.  Whilst everyone else in our business was furloughed, I worked tirelessly to ensure our clients knew they could rely on us to provide them with speakers and moderators, hosts and presenter who would adapt to the virtual world without issue.
Two really great local businesses that followed suit.
Pink and Bow in Ashby De La Zouch launched their Hattie Rose website during the first lockdown.  At the beginning of March, owner Avril and her daughter with their fellow staff members Helen and Kate were operating the two businesses on the high street only.  But when lockdown happened they literally created videos and posted them on their Facebook page within days.  Within few weeks their website was up and there has been no stopping them.  Accommodating, cheerful, informative and offering great clothes at fabulous prices, mum and daughter model all the cloths. I am hugely enthusiastic about their entrepreneurial flair and willing to take risks, and I am a huge fan.
George Hill Fine Wines in Loughborough have been posting wonderfully informative mini wine critiques by their owner Andrew Hill – grandson of the founder – who is a walking encyclopaedia of all things to do with wine. And their online wine tasting sessions are such super fun.  You simply sign up – pay for the wines which are then delivered or couriered to you. Hosted on Zoom with a representative or owner of the chosen vine ward explaining about each wine included everyone has the best fun and chance to taste amazing wines. And they offer the most fabulous hampers too.  Just a great example of a long standing family run business which has survived for over 100 years.
Well worth giving them both a follow.
How to differentiate from working from home and being home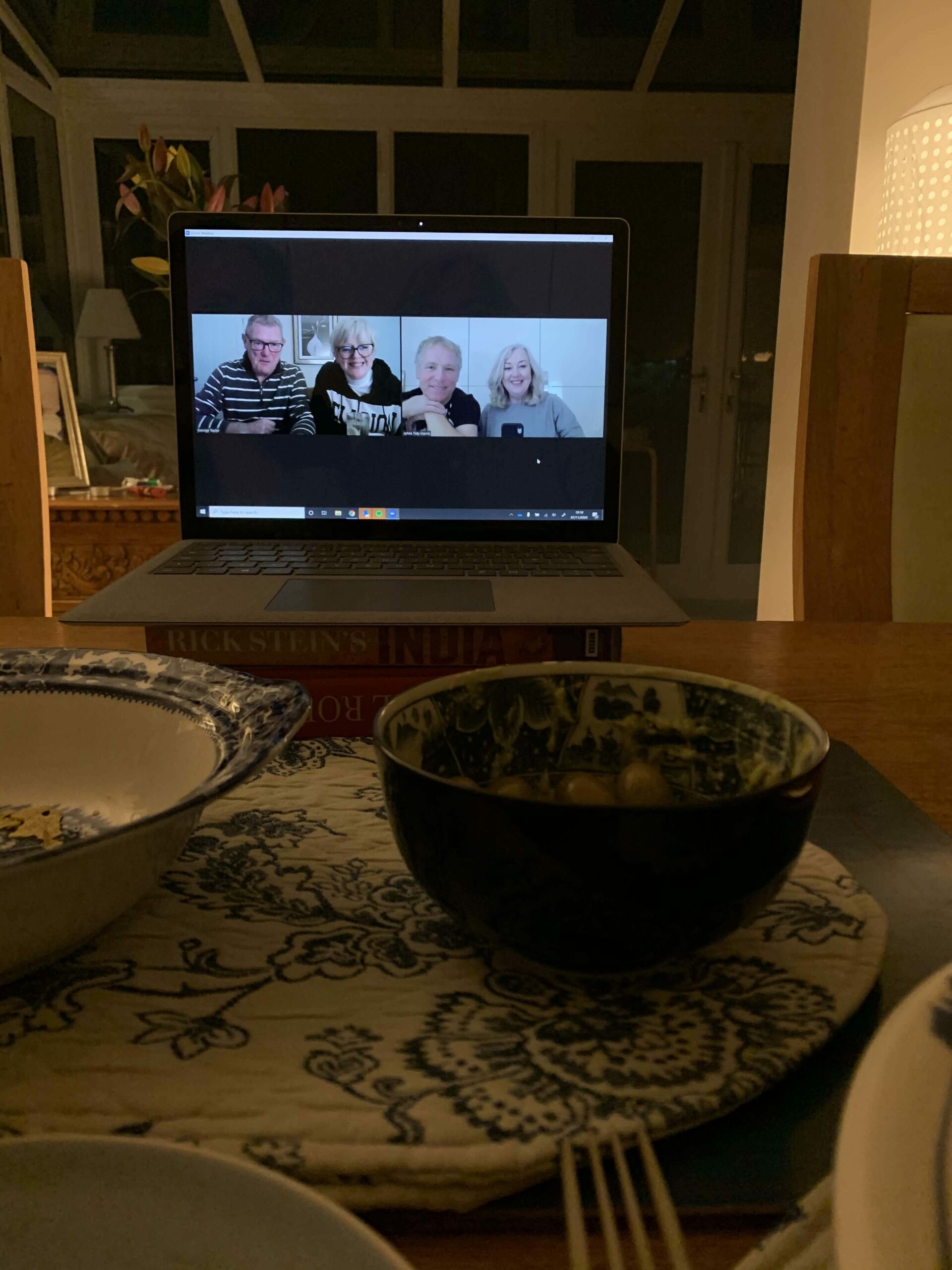 On a personal note my husband and fellow director of The Speakers Agency enjoy virtual events with friends, such as dinner parties.
We agree on a dish and then cook it whilst drinking and eating nibbles. Incredibly we often find ourselves running into a four hour stretch on Zoom or Facetime or WhatsApp. It genuinely feels like we are all in the same room. I feel it works best with two couples but could work with more.
Scheduling one of these on a Friday night really helps to break away from the working from home feeling. I tidy away my books and pens and laptop from the dining table and dress it so it looks like we are having a 'dinner party'.
If you don't want to cook order a takeaway but whatever you do please try it as it is definitely a great way to smother yourselves in fun and laughter.
My thoughts about working from home during lockdown and the future in general
This lockdown whilst not so restrictive as last time is definitely harder for some.
In the second lockdown I am finding working from home is a nightmare.
And as we battle the November gloom and the very many temptations in the fridge or biscuit tin, I find myself contemplating my life as it stands at the moment.
I am happy to follow the lockdown rules – I hope there will be no more.
I will continue working from home but am desperate to get back to the office.  I miss my colleagues Holly and Christine, I like the office energy, and love the office humour and banter.
I am desperate to hug my family and my friends. Gosh I miss that human contact, but understand it might still be a while until we can do that.
I want to smile at people everywhere I go but can't see me not wearing a mask in public for a long time to come. And feel free to go wherever I want to go without feeling anxious.
I'm grateful for all the wonderful and uplifting things people post of social media. A prime example is the elderly former Prima Ballerina in Spain who though suffering severely from Alzheimer's started to dance with her arms when someone played her Swan Lake.  I cry way too much these days as am moved by these inspirational clips.
Rather superficially I am looking forward to travelling again but understand it may be a while before I can do that.
Most importantly though – I hope that everyone is mindful of their mental health, their physical health and their general sense of wellbeing.  We all have to make a huge effort to not become weighted down by anxiety, loneliness and detachment.  If you need help reach out and if someone reaches out help them in any way you can.
Hopefully this will soon be behind us and we can look only forward to the future.
In the meantime, stay safe and remember to look after yourself
Sylvia Tidy-Harris the founder and CEO of The Speakers Agency